Verizon Revamps Plans With More Data, Carryover Data, Unlimited 2G, and Higher Prices
Verizon has announced a series of changes to its monthly service plans effective July 7 and previewed a new version of its My Verizon app in tow.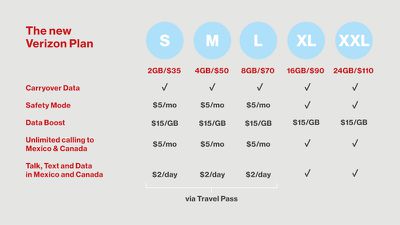 The biggest change is that Verizon's unlimited talk and text plans now offer at least 30 percent more data, albeit at higher price points.
Old Plans
- S: 1GB for $30/month
- M: 3GB for $45/month
- L: 6GB for $60/month
- XL: 12GB for $80/month
- XXL: 18GB for $100/month

New Plans
- S: 2GB for $35/month
- M: 4GB for $50/month
- L: 8GB for $70/month
- XL: 16GB for $90/month
- XXL: 24GB for $110/month

A new Carryover Data feature allows Verizon customers to keep their unused data for an additional month. Carryover data automatically rolls your unused data for one month into the next. If you have 1GB of unused data remaining in July, for example, it would be added on top of your regular August data bucket.
Verizon has introduced a new Safety Mode that aims to eliminate overage fees by providing customers with unlimited data at low 128 kbps speeds at no charge once they have reached their monthly 4G LTE data limit. Safety Mode is included with XL and XXL plans, or $5 per month for S, M, and L plans.
Verizon customers can return to 4G LTE speeds or add more data at any time in the new My Verizon app. Additional data costs $15 per GB.
Meanwhile, Verizon customers can now get unlimited talk and text from the U.S. to Mexico and Canada, and while traveling in either country. The incentive is free for customers with XL or XXL plans, or $5 per month per line for calls from the U.S. for customers with S, M, or L plans. To roam with data in Canada or Mexico, Verizon offers a TravelPass feature for $2 per day per line.
Verizon has also made similar changes to its small business plans.


The new features and changes are complemented by a revamped My Verizon Mobile app.
- The Feed: All you need to know about your data, account and bill in one real-time feed, with personalized products and content just for you.

- The Data Hub: Your data control center. Clearly see how much data is being used, who is using it and how to get more if you need it.

- Shop: The fastest and easiest way to browse, buy and customize the latest devices, all without leaving the app.

- On-Demand Support: In-app help that's there before you need it with immediate answers without calling for help.

- Simplified Bill: A clear and simple bill that explains what's changed from month-to-month. Understand and pay your bill with just a few taps.
My Verizon Mobile is free on the App Store [Direct Link] for iPhone and iPad. The revamped version of the app should be rolling out in the near future.
Update: Engadget notes that existing customers can keep their old plans and rates, but they will not receive all of the new perks such as carryover data.