Company That Sued Apple for iPhone 6 Patent Infringement 'Barely Exists'
Shenzhen Baili, the Chinese company that claimed the iPhone 6 violated the patent of its 100c smartphone, is reported to "barely exist" following its victory in the Beijing Intellectual Property Office against Apple.
In response to Shenzhen Baili's patent lawsuit, The Wall Street Journal investigated the company, along with its parent Digione, and found that the latter company had collapsed, "brought down by buggy products, mismanagement and fierce competition, according to former employees and investors." Digione has apparently been absent from China's mobile phone market for nearly a year.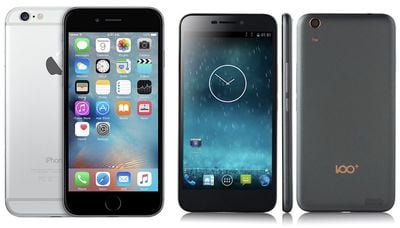 iPhone 6 (left) and Shenzhen Baili's 100c (right)
Phone calls to the company, Shenzhen Baili Marketing Services Co., ring unanswered. Its websites have been deleted. Visits to its three registered addresses found no company offices.

Baili and its parent, Digione, are part of a rapid boom and bust in China's new wave of smartphone makers. When Baili took on Apple in December 2014, telling Chinese regulators that the Cupertino, Calif., company's new models infringed on its smartphone design patents, it had bold aspirations, a big-name investor in Chinese internet giant Baidu Inc. and a team of experienced executives.
All the same, Shenzhen Baili is claiming to continue to battle Apple through its pending appeal process, and the company "is still operational in its necessary functions," according to Digione lawyer Andy Yang. The company originally filed the patent infringement claim in December 2014, shortly after the launch of the iPhone 6, but the case only recently reached the court system in Beijing.
Despite its assertion to continue going after Apple in court, the financial records of Baili and its parent company reveal that both are insolvent, with debts that greatly exceed their total assets. Former employees of the company even said that the suit against Apple was "always more a marketing ploy than a serious court case."
Despite the setback, Apple has confirmed that both the iPhone 6 and 6 Plus have stayed on sale in China thanks to an administrative order appeal from a regional patent tribunal in Beijing last month.