Thieves in New York City are reportedly posing as company employees in order to steal thousands of dollars of hardware from Apple Stores.
According to DNAInfo, last week a man dressed as an Apple staff member walked into the company's SoHo store and gained access to a backroom, stealing iPhones worth a combined $16,130.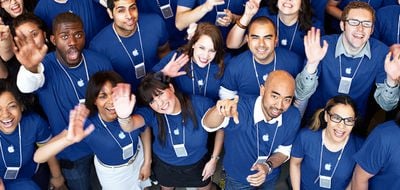 Similar incidents occurred back in March when a store on the Upper West Side was targeted by Apple staff imposters twice. In those thefts, the store lost $50,000 in iPhones.
Gizmodo notes that the tactic appears to have been adopted since Apple retail chief Angela Ahrendts introduced a policy which sees all staff wear blue shirts with smaller Apple logos. Ahrendts' announced the new uniforms internally in 2015 with the catchphrase "Back to Blue... But All New", which introduced several different styles of shirts for employees to wear.
Previously, Apple staff changed their uniforms on a semi-regular basis, with colors and styles linked to seasonal holidays, specific themes, or product launches.
NYPD has connected the two robberies as "related", and hasn't specified whether the thieves were wearing official shirts or close approximations. Either way, the incidents are likely to make Apple revise its security arrangements and look again at its more standardized uniform policy.