A regulatory filing by multinational conglomerate Berkshire Hathaway -- which is run by Warren Buffett -- today revealed that as of March 31, the company owned 9,811,747 shares in Apple stock (via Bloomberg). Berkshire Hathaway's shares were valued at over $1 billion at the end of the first quarter of 2016, but given Apple's recent dip in stock value, it has subsequently declined to nearly $900 million.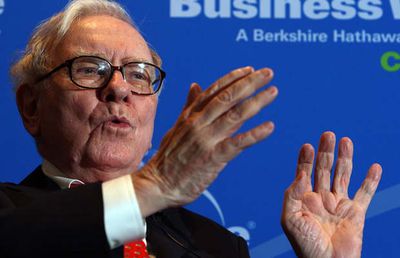 Berkshire Hathaway's stake in Apple appears to be a bet that the Cupertino company's stock will rebound, following its first ever year-over-year revenue drop in 13 years. The slump comes after Apple's April earnings call where it announced the first ever drop in iPhone sales in the 9 years that the smartphone has been on the market. Last week, shares of the company fell below $90 for the first time in nearly two years, but after Berkshire Hathaway's disclosure, Apple's stock price rose 2.2 percent to $92.50 in early trading Monday morning.
Earlier in April, Apple investor Carl Icahn decided to sell his stake in the company, explaining that he did so due to concern over China's attitude towards Apple's encroaching presence in the country. A second Apple investor, David Tepper, also dumped his shares of the company as its value continued to lessen. Tepper had 1.26 million shares that were valued at around $133 million.