WWDC 2016 Lottery Ends, Apple Starts Charging Developers Who Won Tickets
The ticket lottery for Apple's 2016 Worldwide Developers Conference ended this morning at 10:00 a.m. Pacific Time, and it appears that some developers who have won tickets are seeing charges on their credit cards. Several MacRumors readers have had their cards charged, and there are reports of charges on Twitter.
Apple has said developers who win the ticket lottery will be notified by Monday, April 25 at 5:00 p.m. PDT, so some confirmation emails may not be sent until that time.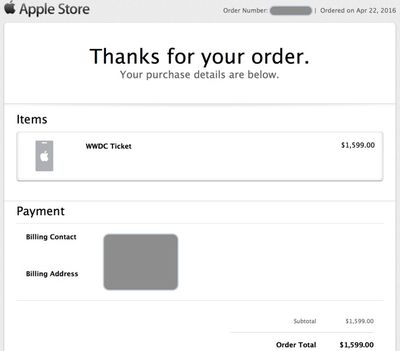 Apple's ticket lottery started on Monday, April 18, giving all developers a chance to enter to win an opportunity to purchase a ticket for $1,599. For the last several years, Apple has distributed tickets via a lottery system as interest in the Worldwide Developers Conference far exceeds capacity.
350 WWDC scholarships are being provided to students and members of participating STEM organizations, and in 2016, Apple is also offering 125 scholarships to aspiring developers with financial limitations.
The 2016 Worldwide Developers Conference will take place on June 13 to 17 at Moscone West, but the keynote event will be held at the Bill Graham Civic Auditorium, a venue able to accommodate more guests. Apple is expected to announce new versions of iOS, OS X, watchOS, and tvOS at the keynote.
Throughout the rest of the week, developers will be able to interface with more than 1,500 Apple engineers and attend more than 100 technical sessions and hands-on labs. Developers who do not win a ticket will be able to watch live streams of WWDC sessions that will cover a range of topics from the iPhone and iPad to the Apple Watch and Apple TV.
(Thanks, Filipe and Leigh!)