When the Apple TV launched, Disney sold (and continues to sell) a $100 Disney Infinity 3.0 Star Wars-themed bundle that included a Disney Infinity Base and controller designed to work with the Disney Infinity 3.0 game on the Apple TV, encouraging people to adopt Disney Infinity 3.0 on the set-top box.
At the time, Disney promised to bring the full Disney Infinity 3.0 Edition console experience to the device, but it appears Disney is reneging on that promise, abandoning development of Disney Infinity 3.0 on the Apple TV.
According to a recent customer service response shared by our sister site TouchArcade, Disney currently has no plans to update the Apple TV version of the Disney Infinity 3.0 app. The response was given to a customer who asked if new Disney Infinity figures would work with the Apple TV.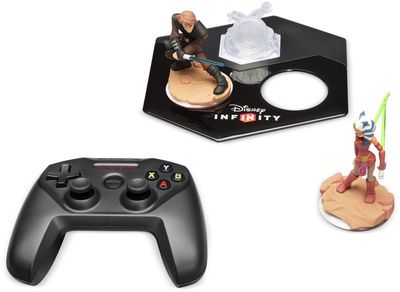 The team is currently focusing on the traditional gaming platforms. We are always evaluating and making changes, but there are currently no plans for futher updates to the Apple TV version of the game. Please keep an eye out for further news about this, and feel free to contact Support if you have any questions.
Disney Infinity enthusiasts who use the Apple TV app are understandably upset about Disney's decision not to update the game after just four months, as it means development has effectively come to a halt and no new characters will be supported, including new Marvel Battleground figures which some people purchased before learning of the incompatibility issue. It also means Disney has no plans to fix bugs that are currently affecting the tvOS app.
As TouchArcade points out, Disney may have made this decision due to poor app sales and revenue generation on the Apple TV. Games and apps have not proven to be as popular on the new platform as they are on iOS, with some popular Apple TV games even bringing in less than $100 per day.
Disney has updated its Disney Infinity website with a new disclaimer noting not all content is available for PC, Steam, iPhone, iPad, Windows, Amazon, Google Play, and Apple TV. The latest Marvel Battlegrounds figures are compatible only with PlayStation 3 and 4, Wii U, Xbox One, and Xbox 360.