OWC Announces Aura Flash Storage Upgrades for Mid-2013 and Later Mac Laptops
Other World Computing today announced a new product that will allow newer Retina MacBook Pro and MacBook Air owners to upgrade the storage in their notebooks for the first time.
Aura SSD upgrade kits are available in 480GB and 1TB capacities and will work with the Late-2013 Retina MacBook Pro and newer and the Mid-2013 MacBook Air and newer. At up to 1TB of storage, a Retina MacBook Pro or MacBook Air can gain up to 8x the capacity of the standard 128GB hard drive that comes with lower-end models. 1TB also exceeds the maximum factory drive available in the MacBook Air, which is limited to 512GB.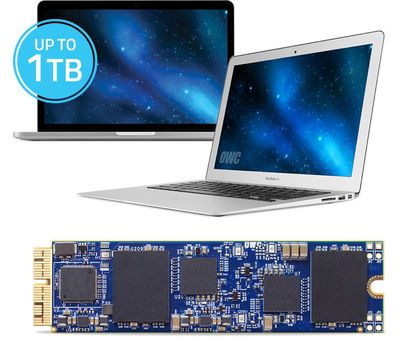 According to OWC, its Aura PCIe-based flash storage is designed using high-quality components that are fully compatible with Mac notebooks.

Tier-1 Flash - Aura SSDs use only top-rated flash for amazing performance and dependability.
Superior Error Correction - Three-level error correction with low-density parity checks provides significantly improved reliability, and RAID-like protection for your data.
Cell-Level Data Refresh - Aura's powerful embedded processor monitors and re-writes data blocks as needed to maintain correct charge at the cell level, improving the integrity of your data and extending the life of your drive.
Global Wear-Leveling - A global wear-leveling algorithm helps evenly distribute data across your SSD cells, extending the life of your drive by preventing any section of flash from getting worn out prematurely.
Upgrade kits include all of the tools that are necessary to replace the solid state drive in a Mac notebook, and it also includes an OWC Envoy Pro drive enclosure to house the existing factory drive in the Retina MacBook Pro or MacBook Air, so it can be used as an external SSD.
OWC's 480GB Aura SSD Kit (with enclosure) is available for $399, with a standalone drive priced at $347.99. The 1TB Kit is priced at $649, with the 1TB standalone drive available for $597. Both drives are available from the OWC website and will begin shipping out at the end of March.