Microsoft has opened up its Office Insider program to users on Macs, following the launch of the service on Windows Desktop, Windows Mobile, and Android devices last November (via ZDNet). The program lets users who are signed up as Office 365 subscribers gain early access to new features and innovations within the suite of Microsoft Office applications.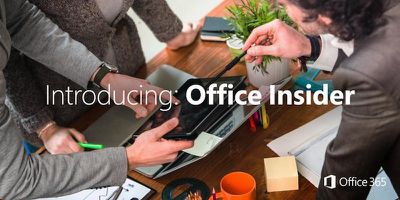 To sign up for the program on a Mac, all users need to do is opt-in to the Office Insider build within the latest Microsoft Auto Update pop-up box. Those who do choose to be a part of the testing will be about one to three weeks ahead of the final release for each new beta-testing feature, according to a few Microsoft officials. The company encourages those interested to check out the company's Office Insider information page to learn more about the early-access program.
Separately, Microsoft yesterday brought a suite of new features to the iPad and iPhone, introducing new drawing tools for the iOS devices that center on the use of 3D Touch for the iPhone 6s and the Apple Pencil on the iPad Pro. 3D Touch on the iPhone allows for access to Quick Actions from the home screen, while a draw tab can be found in each Office application on iPads to add personal notes and sketches to any document.