Belkin today announced an expansion of its USB-C product lineup, debuting a 4-Port Mini Hub, charging cables, home and car chargers, and a USB-C to HDMI adapter, all of which are compatible with Apple's 12-inch Retina MacBook. The Retina MacBook is Apple's first device to use the universal USB-C port.
"Belkin is dedicated to creating quality products that support the current standard and make the transition to USB-C a flawless one," Melody Tecson, director of product management at Belkin. "As industry leaders, we understand the importance providing products that flawlessly integrate into people's lives, while also educating consumers about what this new standard means. We have a devoted USB-C resource center where users learn more about the benefits of USB-C, and find the right cable for their devices."
Belkin's main product, the 4-Port Mini Hub, is designed to plug into the USB-C port on the MacBook to expand the number of ports available. It includes two USB-A ports for using standard USB devices with the Retina MacBook, and two USB-C ports. With the inclusion of USB-C ports, the 4-Port Mini Hub offers pass through charging so a MacBook can be charged while also being used with other external accessories.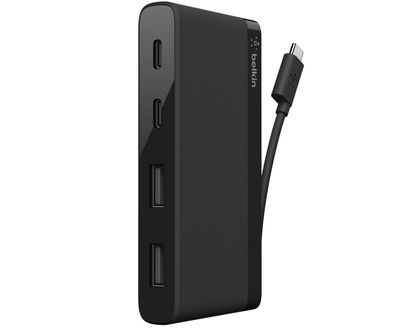 It offers shared data transfer speeds of up to 5GB/s and it is able to charge peripheral devices. A concrete release date for the 4-Port Mini Hub is not yet available, but it will be priced at $49.99 when it launches.
For charging a USB-C device at home or in the car, Belkin is announcing the USB-C Cable + Home Charger ($34.99) and the USB-C Cable + Car Charger ($29.99). The Car Charger and the Home Charger both connect to a USB-C device using an included USB-A to USB-C cable and offer up to 2.1 amps for charging USB-C devices. The 6-foot cable included with both chargers provides data transfer speeds of up to 480MB/s.


Belkin is also introducing a new assortment of MixIt USB-C to USB-C Charge Cables, available in Metallic or Classic colorways. The 6-foot cables offer a 3 amp charging output and data transfer speeds of up to 480MB/s. Belkin's braided Metallic MixIt Charge Cables will be available for $24.99 in black, gold, silver, white, and gray. The standard Classic MixIt Charge Cables will be priced at $19.99 and will be available in black, blue, pink, purple, red, green, and white.


Belkin's final USB-C product debuting at CES is its new 15-centimeter USB-C to HDMI adapter, designed to allow a USB-C device to connect to an HDTV. The USB-C to HDMI Adapter supports 4K resolution at 60 Hz and will be priced at $49.99.
Belkin's USB-C products will be available for purchase beginning in the spring of 2016.