Sonnet this week announced the launch of its long-awaited Echo 15+ Thunderbolt 2 Dock, which is a 16-port docking station compatible with all Mac and Windows computers that feature Thunderbolt ports. It offers four USB 3.0 Ports, two 6Gb/s eSata ports, a FireWire 800 port, a Gigabit Ethernet port, two 3.5mm audio inputs, two 3.5mm audio outputs, and two Thunderbolt 2 ports.
A drive bay with 6Gb/s interfaces for one 3.5 inch or two 2.5-inch internal SATA drives is included, with support for SSD speeds of up to 750 MB/s. The USB 3.0 ports included in the dock provide 7.5 watts of power each for charging iPads, iPhones, and other electronic devices even when a computer is turned off.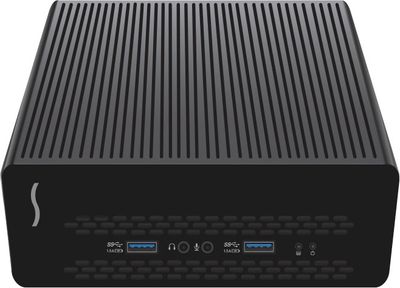 The Echo 15+ also includes a built-in optical drive, and users are able to choose from an 8x DVD+/-RW drive, a Blu-ray BD-ROM/8x DVD+/-RW drive with Blu-ray player software for OS X, or a Blu-ray burner 4x BD-R/8x DVD+/-RW drive. Using an optical Thunderbolt cable and Sonnet's Thunderbolt 2 expansion systems, the Echo 15+ can be connected to computer equipment located up to 60 meters away.


According to Sonnet, the Echo 15+'s aluminum case is sturdy enough to support the latest 27-inch iMac or a comparable display up to 34 inches.
"The Echo 15+ is the ultimate docking station for users to connect every device they need, including current and legacy devices -- even the latest Ultra HD 4K displays -- and expand their storage for backup or increased capacity in a single desktop device that connects to their computer with a Thunderbolt cable," said Greg LaPorte, vice president of sales and marketing, Sonnet Technologies. "With the option to add internal storage supporting data transfer rates of up to 750 MB/s, as well as the ability to read from and write to optical media including Blu-rayTM Disc, Sonnet's Echo 15+ Thunderbolt 2 Dock is the go-to station for flexible connectivity."
Sonnet first announced the Echo 15 Thunderbolt docking station in April of 2013 and began accepting pre-orders at that time. Following the launch of Thunderbolt 2, the dock was delayed in early 2014 as Sonnet decided to upgrade the device to support it, and nearly two years after that, the dock is finally ready.
Pricing on the Echo 15+ Thunderbolt 2 Dock starts at $469 for the version with a DVD+/-RW Drive and goes up to $999 for the version with a Blu-ray Burner and two included 500GB SSDs. The dock can be purchased from the Sonnet website.