Sprint Launches LTE Plus Network, Offers 50% Off Verizon, T-Mobile and AT&T Rate Plans to Celebrate
Sprint today launched its LTE Plus network, which is available today in 77 major markets in the U.S. To celebrate, the carrier is announcing what its calling "the biggest wireless offer in U.S. history", offering 50 percent off of T-Mobile, Verizon and AT&T rate plans. The offer runs from November 20 to January 7, 2016 and the pricing remains in place until January 8, 2018.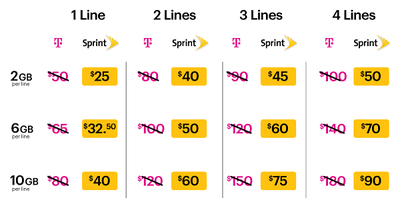 "We've made tremendous strides with our network because we know consumers want wireless service that provides consistent speed and reliability," said Marcelo Claure, Sprint CEO. "We are so confident that customers will have an amazing experience that we are encouraging them to give us a try with the biggest wireless offer in the history of our industry. Customers switching to Sprint will never need to look elsewhere. They will learn what our 58 million customers already know – Sprint offers the best value and an award-winning network."
T-Mobile, Verizon and AT&T customers who want to switch to the network will get Sprint plans that mirror their old plans, only for half the price. For example, a T-Mobile customer with four lines and 10 GB of data per line pays $180 per month at T-Mobile, but will only pay $90 at Sprint. An AT&T family who pays $100 for 15 GB data will get the same thing at Sprint for $50. Verizon customers paying $80 for 12 GB will get the same for $40. Verizon and AT&T customers will also get 50 percent off access fees.


The discounts are only available to consumer plans for Verizon's 1 GB, 3 GB, 6 GB, 12 GB, 18 GB, 20 GB and 25 GB shared data plans, T-Mobile's Simple Choice 2 GB, 6 GB and 10 GB plans and AT&T's 300 MB, 2 GB, 5 GB, 15 GB, 20 GB and 25 GB shared data plans. Specific carrier features like unlimited music and video, data rollover and cloud options do not carryover to Sprint.
Customers switching over to Sprint can also take advantage of iPhone Forever, Sprint's plan that allows customers to upgrade to a new iPhone every year. It's also a "worry-free" offer, with customers having 28 days to try out Sprint's service. If they're not happy, they can return it without incurring a restocking fee. Sprint will also pay any switching fees up to $650 per line with an American Express Reward Card after online registration and phone turn-in.


Sprint says its new LTE Plus network is faster than Verizon's and AT&T's networks, citing Nielsen Mobile Performance data. NMP uses crowdsourced data from Android users in 44 of the largest markets in the U.S., and it found that in 20 of the 44 markets, users downloading files over 5 MB did it fastest on Sprint. The carrier says the new network can reach up to 100 Mbps, includes stronger service with an extended 2.5 GHz signal and more reliable service with three bands of spectrum: 1.9 GHz for broad coverage, 800 MHz for indoor coverage and 2.5 GHz for faster speeds.
Current Sprint customers will get a free tablet with one year of free service while supplies last. Sprint says this offer is a $360 value.