Sam's Club Begins Taking iPad Pro Pre-Orders, Citing November 13 Launch
Popular warehouse chain Sam's Club has started accepting pre-orders for Apple's iPad Pro on its website, and has listed a release date of Friday, November 13 for the device. Sam's Club began advertising the iPad Pro in emails sent out to members this morning.
Sam's Club is accepting pre-orders for the 32 and 128GB Wi-Fi iPad Pro models in Space Gray, Silver, and Gold, but it is not selling the 128GB Wi-Fi + Cellular model. Sam's Club is also selling the device at a slight discount, pricing the two models at $787 for 32GB and $937 for 128GB, compared to Apple's pricing of $799 and $949.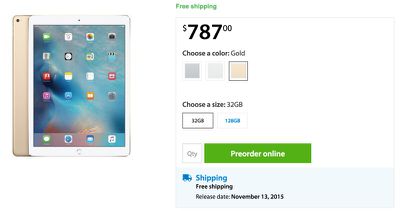 Previous rumors suggested the iPad Pro would launch on Wednesday, November 11, but Friday, November 13 perhaps makes more sense as November 11 is Veterans Day in the United States. Beyond Sam's Club, an iPad Pro accessory maker has also claimed that Chinese resellers will be receiving iPad Pros on November 11 ahead of a November 13 launch.
Earlier this week, Apple's Eddy Cue spoke at the Dropbox Open conference where he referenced the iPad Pro and said it would be "only a few more days" until the device would be available for purchase. It remains unclear if Apple will begin accepting pre-orders next week or if the iPad Pro will go on sale without a pre-order period.
Pricing on the iPad Pro starts at $799 for the 32GB Wi-Fi only version and goes up to $1,079 for a 128GB Wi-Fi + Cellular model. The Apple Pencil and the Smart Keyboard, its two accessories, are sold separately for $99 and $169, respectively.
Update: As of 2 p.m. Pacific Time on Friday, Sam's Club is sold out of iPad Pro pre-orders.
Update 2: MacMall is also accepting pre-orders for the iPad Pro, but the site says orders won't ship for nine days, which would have orders arriving after the prospective November 11 or November 13 launch date. The device is estimated to be in stock at MacMall on November 15.