iFixit Teardown of New 21.5-Inch 4K iMac Reveals DCI-P3 Display, Empty Solder Pads
Earlier today, iFixit conducted a teardown the new Magic Keyboard, Magic Trackpad 2 and Magic Mouse 2. They've now followed that up with a teardown of the brand new 21.5-inch 4K iMac, and while the majority of the insides are the same as last year's model, there are some notable differences.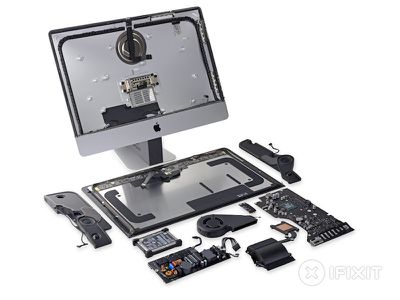 First, the teardown found that the new iMac's 4K display is manufactured by LG. The new display is DCI-P3, which features a wider color gamut than the more standard sRGB. The new iMac is one of the few devices that allows consumers to experience the new display technology.
Apple has also removed the empty PCIe SSD slot that was featured in the late 2013 iMac, which means that do-it-yourself upgraders won't be able to upgrade their machine easily. In 2012, Apple featured empty solder pads where the SSD slot would go, but in 2013 added an empty SSD slot. iFixit notes that users who want to add a Fusion Drive will either have to configure it at purchase or solder it on themselves.
Overall, iFixit gave the new 21.5-inch iMac a repairability score of 1 out of 10, which means that the new desktop computer is extremely difficult to repair. Like other iMacs, the soldered-on CPU, logic board and fused-together glass and Retina Display contribute to how difficult the new desktop is to repair.