iPad Pro First Impressions: Surprisingly Light, But Screen Size May Be Unnecessary for Most
As journalists and bloggers leave the Apple media event in San Francisco, the first impressions of the brand-new iPad Pro have begun trickling out onto the Internet. Sites like Wired, Engadget, SlashGear, and TechnoBuffalo all got to go hands-on with the new tablet and came away with largely positive impressions of the device, with one of the only negatives being the large size of the device. At an unwieldy 12.9-inches, the consensus is that the iPad Pro may be too big for many users.
It's certainly as crisp and sharp as any display I've ever seen. If Apple's ultimate tablet goal is to build a piece of glass onto which you can project your hopes, dreams, and apps, the iPad Pro feels like a realization of that dream.

During the keynote, Apple execs talked a lot about how difficult this screen was to create—but you'd never know. It's smooth and fast; in fact, every part of the iPad Pro is smooth and fast. The $99 Pencil stylus feels like a particular triumph: It is, bar none, the most fluid and lag-free stylus I've ever used.
The first big takeaway about the iPad Pro Wired noticed was that despite the tablet's size, it's surprisingly comfortable to hold in one hand. The site also noted that the new 2732×2048 resolution screen is "smooth and fast," and gave particular praise to the $99 Apple Pencil accessory the company also debuted during today's media event.
Still, despite its positives, Wired believes that using a tablet in the place of a desktop or laptop computer will always remain a lesser experience. They called some of the experience of iOS "clunky," and were unsure of whether Microsoft's new Word experience, shown off at the event as well, would actually be a selling point for the work-focused device.
The question will be, is it great for you? The iPad is still a tablet, and running iOS means it's still going to be a little clunky—using Word, I found myself wishing I had all my keyboard and mouse shortcuts handy and didn't have to keep picking up the Pencil or tapping the screen. And if we learned anything from the Surface, it's that the world might not be ready for this type of device just yet.
Engadget also expressed surprise over the device's lightness, noting that the iPad Pro felt "lighter than it looks," but that in portrait mode, it can be a bit awkward and top-heavy. The site noted that the tablet's other accessory, the Smart Keyboard, provided some decent travel when pressing the keys down and overall felt like a step above other keyboards bundled in third-party case sleeves.
I know we tech bloggers say this a lot in hands-on posts, but it feels lighter than it looks. That's not to say I'd want to use this much in portrait mode; it feels a little too top-heavy in-hand. But in landscape, the height is actually on par with the iPad Air 2; it's just wider. That makes it pretty manageable in horizontal use, which I suspect is how most iPad Pro-optimized apps were meant to be used anyway.

And what of that keyboard? It's really too soon to put down a firm verdict, but tentatively, I like it. The cloth-covered keys feel nice beneath the fingers, and help give the illusion of control, despite the fact that these are otherwise some fairly flat buttons.
SlashGear called the iPad Pro "incredibly, vastly, ridiculously huge," but that its thin size and easiness to hold gives it the feel of a science fiction "digital newspaper." The site also called the four speakers on the device "laughably strong," and appreciated that they automatically adjust and change when displaying the tablet's orientation. Similar to other opinions, SlashGear's biggest negative on the tablet is more of a caveat: "it makes far more sense as a content creation tool than one for consumption."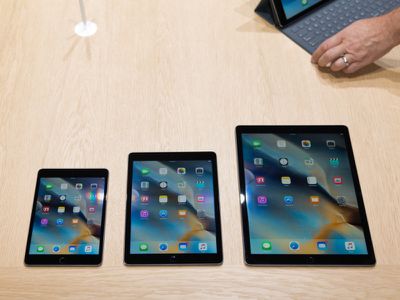 Everyone who wasn't at Apple's event will be able to see the iPad Pro for themselves when the device launches this November in Space Gray, Gold, and Silver color options. The new tablet will be priced at $749 (32GB) and $949 (128GB) for the Wi-Fi models, while a 128GB Wi-Fi + Cellular option will come in at $1,079.