'6S Marketing' Ad Agency Asks Apple to Rename 'iPhone 6s'
6S Marketing, an ad agency located in New York, is hoping to persuade Apple to change the name of its upcoming iOS device, the iPhone 6s, to the iPhone 7. The company has written an open letter addressed to Apple and rented several billboards, one in Times Square, reading "Dear Universe, Please call it the iPhone 7. Sincerely, 6S Marketing."
6S Marketing has also tagged its billboards with a campaign hashtag, #WeAre6S, which it says it uses to "highlight our unique and fun company culture."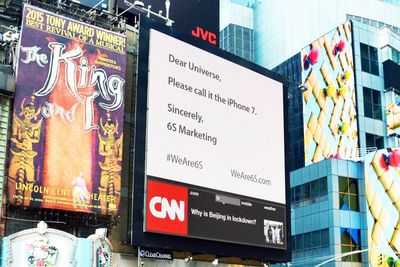 In the letter posted on its website, 6S Marketing goes on to say the company has heard rumors the next-generation iPhone will be called the iPhone 6s, and urges Apple to "reconsider" before detailing the company's long history.
See, our company name is 6S Marketing, but our clients, friends, and colleagues simply refer to us as good ol' "6S." It's a small name but a big part of our identity -- one we've been using since 2000, when we started this company in my tiny apartment. At that time, we didn't think that one of the biggest, and most well-respected, companies would use it to name a mobile device. (We were still using Motorola flip phones at the time, after all.)

The reason we chose the name "6S" is that it sound like "success" (get it?).
As we're now less than a week away from the unveiling of the next-generation iPhone 6s and 6s Plus, there would be no time for Apple to change its own marketing materials and packaging even should it choose to consider 6S Marketing's plea, a fact the company likely knows, making this more of a publicity stunt than a genuine request.


Apple's iPhone naming scheme has been the same for multiple years in a row, having kicked off with the iPhone 3GS. 6S Marketing's publication of its letter at this late date in Apple's development cycle suggests the company is simply hoping to garner some attention ahead of the September 9 introduction of the next-generation iPhone.
6S Marketing ends its open letter with the following: "Hopefully, this message will reach you in time and you'll reconsider leaving "6S" to the originals -- we've been rocking it since the millennium, after all."