Apple's $99 'One to One' Tutoring Program May Be Coming to an End
Apple may soon end its $99 "One to One" tutoring program for Mac and iOS users, according to a source that has provided MacRumors with reliable information in the past. Our source says Apple is stopping the program to allow retail employees to focus on hosting a greater number of free workshops, which multiple people are able to attend at once.
One to One is a long-running Apple program that allows customers who purchase a Mac to pay an additional $99 for one year of Mac, iPhone, and iPad instruction from Apple retail employees. One to One sessions include 30 or 60 minute Personal Training sessions, 90-minute Group Training sessions, and 90-minute group-based Open Training sessions.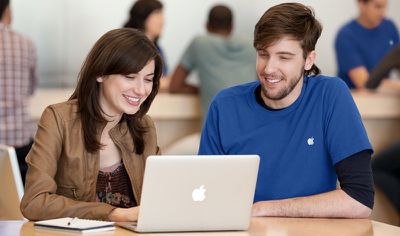 One to One members can get help with a wide variety of topics, like getting started with an iPhone, iPad, or Mac and using Apple services like iCloud, and iTunes. Training sessions on Apple apps, including Photos, Mail, iMovie, Final Cut Pro, and more, are also included.
One to One will help you do more than you ever thought possible with your Mac. First, we'll set up your email, transfer your photos, music, and other files, and show you how to keep everything in sync with iCloud. Then, we'll work with you to create a curriculum tailored to your goals, learning style, and experience level.
Apple is planning to fold its One to One service into free open workshops, amid some larger changes being made to Apple's teaching methods. In the near future, workshops will be restructured around themes like "Discover" and "Create," and will be more accessible on Apple's main website.
Apple plans to honor existing One to One memberships until they expire, but will not sell new memberships to the program going forward. Customers who need assistance will still be able to sign up for dozens of free, open workshops.