Square Enix's 'Final Fantasy VII' Now Available for iOS
Square Enix today released a long-awaited port of Final Fantasy VII for iOS devices. Originally released in 1997, Final Fantasy VII was the first game in the Final Fantasy series created for PlayStation and it continues to be one of the most popular Final Fantasy games.
At E3, Square Enix promised to launch Final Fantasy VII before the end of the summer in 2015, so with tonight's release, the company is living up to its word. Square Enix has previously made the first six Final Fantasy games available on iOS devices, but Final Fantasy VII for iOS marks the first Final Fantasy port from a PlayStation game.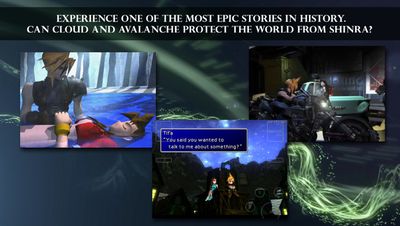 According to Square Enix, the iOS version of Final Fantasy VII is a port of the PC version, with no changes or additions to the storyline.
With its unshakeable monopoly over Mako energy production, the evil Shinra Electric Power Company holds tight to the reigns of wold power. One day, a Mako reactor serving the sprawling metropolis of Midgar is attacked and destroyed in a bombing raid by a revolutionary group calling themselves Avalanche. Cloud Strife, a former member of Shinra's elite "Soldier" unit takes part in the raid as a mercenary hired by Avalanche and sets events in motion that will draw him and his friends into an epic struggle for the fate of the planet itself...
The iOS port of the game includes a virtual on-screen controller that's "designed not to obscure the action." It offers virtual analog or fixed 4-way digital control pad options and the opacity of the on-screen controls is adjustable. Also new to the iOS version of the game is an option to turn off enemy encounters in area maps and a Max Stats command to "become all-powerful in the blink of an eye."
It's taken several years for Square Enix to bring Final Fantasy VII to the iOS App Store, largely due to space constraints. In 2013, Square Enix producer Takashi Tokita said that a release of Final Fantasy VII was years away because of space limitations. "It's that currently, space will be an issue," he said. "Phones won't be able to contain the space it takes. It's over a gigabyte. People are probably going to have to wait for a few years."
In February of 2015, Apple expanded the size limitation on apps from 2GB to 4GB, paving the way for apps like Final Fantasy VII. According to the App Store description of the game, it takes 1.66GB of storage space, but requires more than 4GB of free space to download.
Final Fantasy VII is compatible with the iPhone 5s or later, the third-generation iPad or later, and the iPad mini 2 or later, with Square Enix warning that the game may not perform well on earlier devices. iOS 8 or later is also required.
Final Fantasy VII can be downloaded from the App Store for $15.99. [Direct Link]