If you were tricked into buying MacKeeper, you may be able to get your money refunded. MacKeeper, for those unfamiliar, is Mac software that purports to optimize a Mac and keep it secure from viruses and malware, advertising claims that it has not been able to live up to.
As shared by Macworld, following a class action lawsuit that accused MacKeeper developer ZeoBIT of deceptive advertising and false claims, a proposed settlement of $2 million has been established to provide to customers who bought MacKeeper and would like a refund.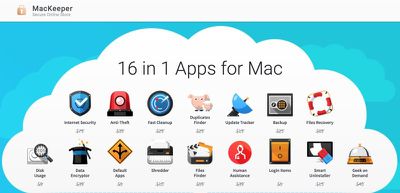 Customers who purchased MacKeeper before July 8, 2015 can file a claim to request a full refund of the purchase price. Customers must submit a claim form before November 30, 2015 to become a part of the class action settlement. More than 500,000 people have purchased MacKeeper, paying prices up to $39.95, and buyers will be contacted via email about the settlement.
Because of its aggressive marketing tactics, often appearing in intrusive pop-up and pop-under ads, MacKeeper has earned a negative reputation with most Mac users, who believe it's little more than bloatware.
As part of the $2 million settlement earmarked for refunds, ZeoBIT will not need to admit any fault in regards to claims of deceptive advertising and making false claims about the software's capabilities. MacKeeper is no longer ZeoBIT property, having been sold to Kromtech in April of 2013.