Apple Pay Now Supports HSBC and First Direct in the UK
Apple Pay today expanded its participating issuers list within the United Kingdom, adding support for both HSBC and First Direct customers. Both banks were announced as starting partners for the UK branch of Apple Pay, but were delayed until late July at the last minute.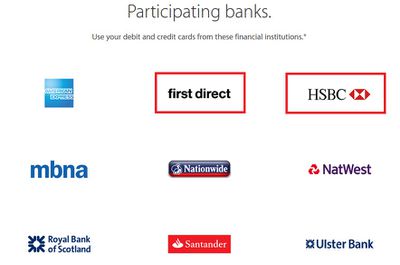 HSBC and First Direct join a list of UK Apple Pay partners that includes: American Express, MBNA, Nationwide, NatWest, Royal Bank of Scotland, Santander and Ulster Bank. Still listed as coming soon are: Bank of Scotland, Lloyds Bank, M&S Bank and TSB. Although Barclays has confirmed "imminent" support for the contactless payment service, the bank has yet to be listed on Apple's Apple Pay UK site.
Along with the announcement of HSBC and First Direct support, customers using Apple Pay in the UK will also be able to start taking advantage of the service at both Five Guys restaurants and Wilko stores across the country. UK support of Apple Pay launched on July 14, and has been steadily expanding its roster of retail partners and financial institutions in the subsequent weeks.