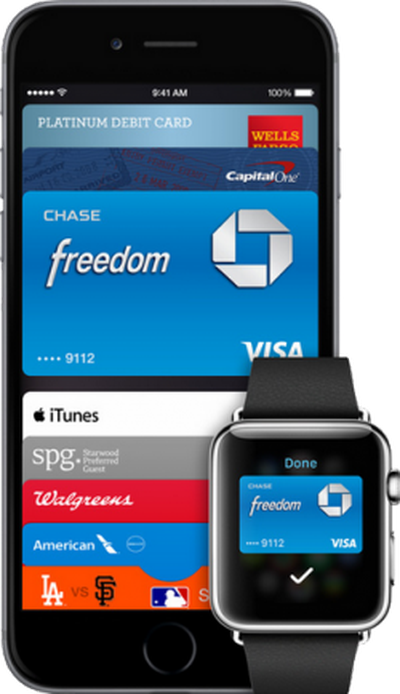 Apple updated its Apple Pay participating issuers list today with 35 additional banks, credit unions and financial institutions supporting the contactless payment service in the United States. Apple Pay now has over 375 participating issuers nationwide, and dozens more plan to support the NFC-based mobile payment service in the future.
The newly added Apple Pay participating issuers are reflected below, although it's worth noting that some banks, credit unions and financial institutions listed may have already had support for the contactless payments service and are only now being reflected on Apple's website.
The full list of new Apple Pay participating issuers:
1st Source Bank

Allegacy Federal Credit Union

Amarillo National Bank

American National Bank and Trust

Cambridge Trust Bank

CASE Credit Union

CME FCU

Coast Line Credit Union

Columbia Bank

Community Financial Credit Union

Eagle Federal Credit Union

Earlham Savings Bank

Eastern Bank

Evergreen Credit Union

Fidelity Bank

Federal Savings Bank

First Financial Bank

First National Bank and Trust

First National Bank of Omaha

FNB Community Bank

Heritage Family Federal Credit Union

Meritrust Credit Union

NuMark Credit Union

Pittsford Federal Credit Union

Premier Federal Credit Union

Quail Creek Bank

Reliabank Dakota

Reliant Federal Credit Union

Renesant Bank

SESLOC Federal Credit Union

Stanford FCU

The Summit Federal Credit Union

Umpqua Bank

VisionBank

Y-12 Federal Credit Union
Apple Pay is accepted at nearly 750,000 locations in the United States and United Kingdom, and Apple is committed to an international rollout of the mobile payments service in additional countries such as Canada and China in the near future.
Canada could be the next country to embrace the service outside of the U.S. and U.K. in November. The country has already migrated to Chip-and-PIN debit and credit cards and many retailers and businesses have since upgraded to NFC-based terminals to accept contactless payments.