Xiaomi VP Hugo Barra Defends Against Copycat Accusations in New Interview
Xiaomi vice president Hugo Barra, who came to the company from Google, today did an interview with Bloomberg where he once again spoke out in defense against copycat accusations that have been levied against the company.
According to Barra, all of the copycat claims come from a single iPhone 5-style chamfered edge on a Xiaomi device. "Yes, it does look like an iPhone 5 and that chamfered edge, by the way, is present in so many other devices."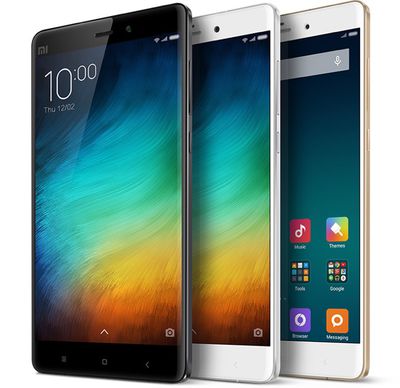 Xiaomi's Mi Note


He went on to say that the accusations were the result of a bias against Chinese companies. "People couldn't bring themselves to believe a Chinese company actually could be a world innovator, could build amazingly high-quality products."
When asked if the recent Mi Note looks like an iPhone 6 Plus, Barra laughed it off and said "it's white like an iPhone 6 Plus." He said accusations of copying weren't fair, because these days, every smartphone looks like every other smartphone on the market.
I just don't think we can allow a company to take ownership of things that just are how they are, right? I think if you look at what we've designed in the last 12 months you understand how much originality there is in what we do. And to be honest, I think you're going to see a lot more happening the opposite direction, people taking inspiration off what we do.
Over the course of four years, Chinese electronics company Xiaomi has managed to become the world's third largest smartphone distributor, competing with the likes of Lenovo, LG, Samsung, and Apple. Its devices, ranging from smartphones to tablets, have been publicly criticized for heavily borrowing design elements from Apple's iPhones and iPads and adopting marketing materials tactics similar to Apple's.
Xiaomi's copycat antics led Apple chief designer Jony Ive to verbally skewer the company in a 2014 interview, where he famously said "I think it's theft and it's lazy. I don't think it's okay at all," following a statement from Xiaomi vice president Hugo Barra, who had said, "Our designers, our engineers are inspired by great products and by great design out there. And frankly who in today's world isn't?"
At the time, Ive went on to say Xiaomi's devices aren't a form of flattery. "When you're doing something for the first time, like with the iPhone... and you spend 7 or 8 years working on it and then it's copied - I have to be honest, the first thing I think isn't 'oh, that was flattering.' "

The iPhone 5c-style Xiaomi Mi 4i


Xiaomi's latest smartphones are the Mi Note and Mi Note Pro, designed to compete with the iPhone 6 and 6 Plus, but the company has most recently expanded into the home arena, with the Smart Home Kit.