OS X El Capitan Review Roundup: Not Hugely Different From Yosemite, but Adds New Conveniences
At its Worldwide Developer's Conference last week, Apple introduced OS X 10.11 El Capitan, the newest version of its Mac-based operating system. At the time, Apple provided the software both to registered developers and to members of the media. Media reviews are hitting the web, giving us our first in-depth opinions on OS X El Capitan.
We've rounded up details from some of the best reviews in order to give MacRumors readers a look at OS X El Capitan from the perspective of people who have used it extensively over the course of the last week. Each of the reviews is worth reading in full to get a feel for how OS X El Capitan builds upon the features introduced with OS X Yosemite.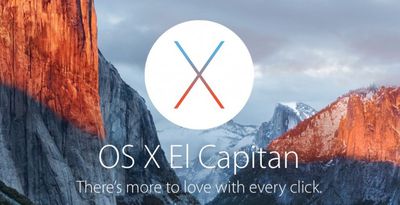 Lauren Goode, Re/code:
The most notable I've-seen-this-before feature in OS X El Capitan is Split View: Now, two apps can run in split view on a full screen. Finally! Mail and TweetDeck side by side throughout the day, on a full screen, without having to manually drag windows into place. Of course, Microsoft Windows has had this "snap" feature for years.
Jim Dalrymple, The Loop:
I use Mail a lot. Unfortunately, I've had some trouble lately with Mail on Yosemite getting stuck while checking IMAP connections, especially after I wake the computer from sleep. All I ask for in El Capitan is for that to be fixed.


The good news is that it seems much better in this beta version of the operating system. Apple said Mail in El Capitan delivers an improved IMAP engine, so I'm very hopeful. I haven't had Mail stop working yet and I'm a week into using it--that's a damn good sign.
Lance Ulanoff, Mashable:
The differences between Apple OS X Yosemite and El Capitan are so subtle that it often feels like one of those puzzles where you have to spot 11 differences between two photos. Considering Yosemite was a lauded OS overhaul, this isn't a bad thing, but the best way to sum up Apple's OS update is this: If you like Yosemite, you'll like El Capitan, too. [...]

Apple tweaked system performance to improve mail load times and application launches, but it was hard for me to tell the difference. Did it seem fast? Yes. Does Yosemite also seem fast? Yes. I did notice one very beta glitch when I unexpected ran out of system memory in El Capitan.
Darrell Etherington, TechCrunch:
Now, Apple has added a lot of muscle to Notes in 10.11, turning into a much better competitor not only for other text editors, but for things like Evernote, too. You can integrate images, PDFs, videos and other media right into notes via drag-and-drop insertion, for instance, and crate checklists out of line-separated items with a single click.

Formatting ensures that you can create headers, paragraph styles, bold and italicize text and you can attach from your Photos app directly. Open content from other apps directly in Notes, too, using the Share menu across OS X, and even add stuff like Maps locations, spreadsheets and more. Folders keep things more organized, and thumbnails provide easy identification of what's within a Note from the sidebar menu when you're including media.
Dieter Bohn, The Verge:
Why would you choose Apple's solutions in El Capitan? Because they're all so tightly integrated. Maps talks to Notes, Calendar talks to Mail, and all of them talk to Spotlight. All of those interconnections and digital conversations could subtly drive you to opt for Apple apps instead of whatever you might have been using before. Think of it like Continuity, but inside the computer instead of between devices. And all of it works incredibly well.
Dana Wollman, Engadget:
Some of my favorite updates are in Safari, though many would rightfully argue that these improvements aren't necessarily novel. In fact, some appear to take after features already offered in Chrome, and other competing browsers. For instance, there's now an option to identify which tab is playing sound. From there, you can hit a mute button on the tab itself, or click the speaker icon in the address bar. The latter option comes in handy when you have sound coming from multiple tabs -- say, a song you meant to stream, and an auto-playing video ad in the other. By clicking the sound icon in the URL bar, you can see a list of all the tabs playing sound and selectively mute the one that's bothering you.


Perhaps my favorite new feature is the addition of pinned sites. They sort of form a bookmarks bar, only better: Here, these tabs can't be closed, and because they look like shrunken buttons, they take up much less space than a regular tab.
Rene Ritchie, iMore:
Thanks to a new CoreSpotlight API, developers can now make the content in their apps, including documents, messages, and more, available to Spotlight as well. That means it'll be even easier to find what we're looking for, no matter where it's contained.

I've tried LaunchBar, Alfred, and Quicksilver, but none of them ever stuck: Spotlight has always been my go-to. Yosemite made it significantly more functional, but natural language and the new results engine promises to make it integral to the Mac experience. I'm really looking forward to using it full-time come the fall.
Other Reviews:
Ryan Smith, AnandTech
David Pierce, Wired
Ed Baig, USA Today
David Pogue, Yahoo
Andrew Cunningham, Ars Technica
OS X El Capitan is currently only available to registered developers. Apple has plans to introduce a public beta test of the software in July, following that with a fall public release. For detailed information on all of the new features in OS X El Capitan, make sure to check out our El Capitan roundup.