iOS 9 Extends Continuity Phone Call Features to Cellular Connections
With iOS 8, Apple introduced Continuity, a set of features that allow iOS devices and Macs to interface in new ways. One of the Continuity features allows the iPad and the Mac to receive both text messages and phone calls, so long as your devices, including your iPhone, are all on the same Wi-Fi network.
In iOS 9, accepting phone calls or text messages on your iPad or Mac routed from your iPhone is getting even better, with the addition of cellular support. With iOS 9, your iPhone no longer needs to be on the same network as your iPad or Mac for call forwarding to work.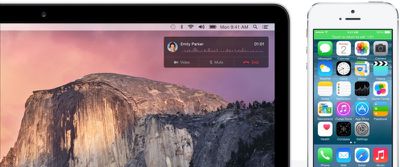 That means an iPhone can continue to forward calls to a Mac or an iPad even when it's in an entirely different physical location. So, for example, if you forget your iPhone at home, you can continue to receive incoming calls on your Mac while at work, so long as your Mac is connected to a Wi-Fi network.
The feature is tied to Wi-Fi calling, and as noted by The Verge, T-Mobile is the first U.S. carrier to support cellular Continuity. In iOS 9, T-Mobile devices have Phone settings that can be toggled on to allow calls on other devices.
"Wi-Fi calling for other devices allows other devices signed into your iCloud account to make and receive calls using your carrier account even when your iPhone is not nearby," reads the description of the feature.
On phones from other carriers, this setting reads differently: "Use your iPhone cellular connection to make and receive calls on devices signed into your iCloud account when they are nearby and on Wi-Fi."
Developers running iOS 9 who use T-Mobile can access this feature immediately, and beta testers will receive access in July, when iOS 9 is provided to public beta testers. It is not known if other carriers will implement support for cellular Continuity before iOS 9 launches in the fall.