Apple today shifted its messaging concerning Apple Watch try-on appointments, which were required in the early days following the wearable's launch to be able to interact with and size the various models of the Watch. The messaging of try-on appointments has now largely vanished from the Apple Watch's online storefront, with a notification encouraging customers to visit their local Apple Watch store for workshops on the device or "just walk in to try Apple Watch on."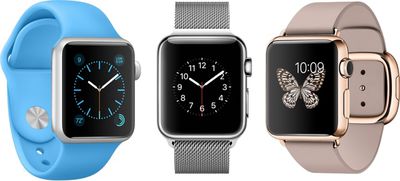 In reality, walk-in customers have generally been able to arrange immediate try-on sessions for some time now as the crowds have significantly lessened following the initial surge. With Apple gearing up to begin in-store sales of the Apple Watch in just a few weeks, however, the company is already changing its customer guidance to omit the recommendation of making an appointment.


Even though the messaging is pivoting away from scheduled appointments, it should be noted that retail stores are still accepting try-on appointments for customers wanting to ensure their time with the Apple Watch. Try-on sessions may become a bit busier once in-store sales begin, so at that point appointments may become more advisable.