For several years running, AltConf has been held at the same time as Apple's Worldwide Developers Conference, giving developers who did not get a ticket to attend WWDC a place to go to meet up and mingle.
Content streamed live from Apple, including developer sessions and keynote events, has been shown at AltConf in past years, but this year, Apple has barred AltConf from streaming video content from the Worldwide Developers Conference.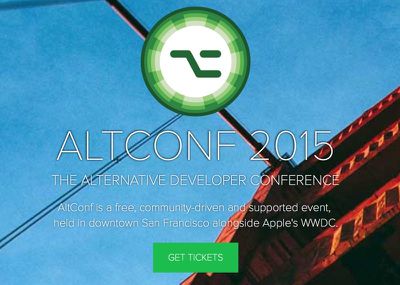 In a press release, AltConf notified attendees that it had received a letter from Apple's legal representatives, preventing it from showing Monday's keynote event and video sessions from WWDC. Apple's letter said that the company "exercises control over not only the content of its messaging, but also the manner in which those messages are packaged, distributed, and delivered."
AltConf's streaming of Apple content "would strip Apple of exclusive control over one of the most anticipated events of the year, and could deprive Apple of potential revenue generated from its exclusive rights." Thus, AltConf must "refrain from publicly streaming or showing any WWDC content. Apple further demands that AltConf and each of its organizers refrain from reproducing or distributing any WWDC content belonging to Apple, in any manner."
It is not clear why Apple has decided to crack down on AltConf's plan to stream WWDC content as AltConf has been able to do so in the past. This is the first year that AltConf has offered a $300 paid ticket option, but AltConf's organizers do not believe that is a factor as paid tickets do not guarantee seating for the WWDC viewing theater.
According to AltConf's note, the conference's organizers are hoping to come to an agreement with Apple that will allow them to share WWDC content. As an alternative, AltConf will show developer sessions from Google I/O, Microsoft's Build, NSConference, 360 iDev, and 360 iDev, and UIKonf in its viewing rooms, and it will also include sessions with various speakers. Live blogs will be displayed during the keynote instead of Apple's live stream, and there will be a "keynote reaction panel" from iMore.
Update: Apple has changed its mind and will allow AltConf to stream the WWDC keynote. AltConf will not, however, be able to stream WWDC sessions.
Thanks to the support and passion the community has responded with over the past 24 hours, Apple is allowing AltConf to stream the WWDC Keynote and Platforms State of the Union address on Monday, as originally planned.