Apple Preparing Retail Employees for June In-Store Apple Watch Launch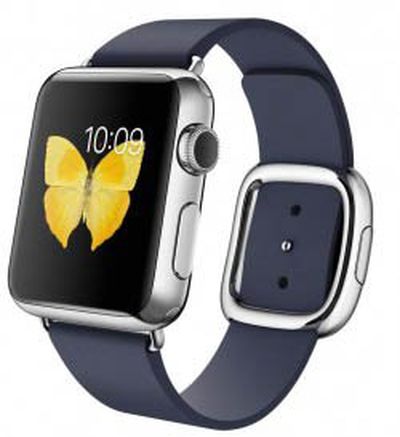 During Apple's most recent earnings call, CEO Tim Cook announced plans to begin carrying the Apple Watch in the company's retail stores in late June. Now that we've entered the first week of that month, Apple has begun preparing its retail employees for the in-store launch of the Apple Watch.
In a video message sent to retail employees, the contents of which were shared by 9to5Mac, retail chief Angela Ahrendts told employees that they need to be "above and beyond ready" for the launch. Apple's VP of retail operations Jim Bean also detailed an upcoming "Reserve and Pickup" feature.
Reserve and Pickup will let customers check the Apple Online Store each day at 8:00 a.m. local time to see if a nearby store has their desired Apple Watch model in stock. If it's available, customers will be able to reserve the Apple Watch and choose a time to pick it up. Customers will also be able to make reservations for Apple Watch models that are not yet in stock.
"This is our moment to shine, this will be a launch unlike any we've ever had before... this is what you were born to do, this is why you are at Apple," Ahrendts told employees hoping to encourage them to re-review the Apple Watch training materials. Apple is also encouraging employees to discuss the benefits of Apple Pay with customers, which is a core Apple Watch feature.
In addition to preparing Apple employees for in-store Apple Watch sales, Apple has also notified them that customers are now able to try Apple Watch demo units paired to an iPhone in store. Prior to now, Apple Watches have been in a demo loop or attached to tables and unable to pair with iPhones.
Since its launch on April 24, the Apple Watch has been available from Apple solely online. Apple has, however, made limited numbers of the Apple Watch available to customers through third-party boutiques, such as Maxfield in Los Angeles. According to retail chief Angela Ahrendts, Apple's efforts to keep sales online have been done due to supply constraints and to provide customers with the best possible Apple Watch buying experience.
The Apple Watch continues to be in short supply, but shipping times for many models have greatly improved since launch. Some models of the Apple Watch Sport and stainless steel Apple Watch are now shipping within a week in the United States.