Some Trader Joe's Stores Accepting Contactless Payments, Including Apple Pay
Popular grocery store chain Trader Joe's has installed new NFC-compatible VeriFone touchscreen checkout terminals in some of its stores, allowing for contactless payments. First noticed by AppleInsider, some of these stores with the new payment terminals are accepting Apple Pay, which works at any location that allows for contactless payments.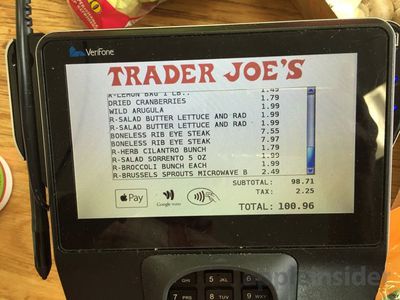 Image via AppleInsider


MacRumors has verified that Apple Pay works in some Trader Joe's stores. In the Raleigh, North Carolina area, we were able to make a purchase at Trader Joe's with the Apple Watch using Apple Pay.
Not all Trader Joe's stores have the new payment terminals at this time, and not all stores with the new terminals are accepting Apple Pay via NFC. The Apple Pay logo is present on the checkout terminal, however, suggesting Trader Joe's is perhaps considering becoming an official Apple Pay partner.
Trader Joe's is known for its high-quality low-priced products, and it has more than 400 locations across the United States. If Trader Joe's becomes an official Apple Pay partner, it will join other grocery store chains like Whole Foods, Dick's Fresh Market, Winn-Dixie, Bi-Lo, Food Maxx, Lucky, Meijer, Sprouts, and more.