TestFlight Experiencing Extended Downtime for Many Developers
It has not been a good week for Apple's developer services. Less than a day after iTunes Connect experienced a lengthy outage that lasted several hours, TestFlight is now unavailable for many developers. The beta testing service for iPhone, iPad and Apple Watch apps has been returning a "currently unavailable" message since as early as Wednesday afternoon around 6:00 PM Pacific.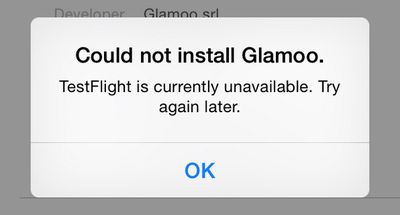 Apple has yet to update its system status page for developers to reflect the outage, although the company has historically been rather delayed at doing so. The outage has been confirmed to be affecting developers in the United States, Canada and Europe, and likely elsewhere, preventing developers from seeding pre-release versions of their apps for testing for the meantime.