Over the course of the last several weeks, Apple has been hiring new employees for its upcoming Apple Store in São Paulo, Brazil, and as of this week, barriers decorated with Apple logos have gone up around the store, suggesting the store's official launch is growing closer.
Shared by Brazilian site Blog do iPhone [Google Translate], the barricades feature an Apple logo surrounded by dots in varying sizes in silver, gold, and space gray, the colors of the iPhone, the iPad, and the upcoming MacBook.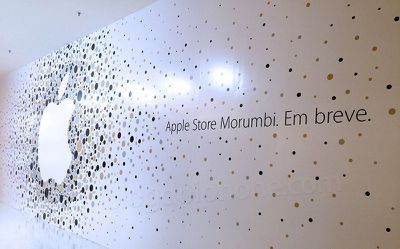 The words on the walls read "Apple Store Morumbi. Em Breve," which translates to "Coming soon," and another section reads "Entre nessa festa," roughly translating to "Enter this party."
The São Paulo store is something of a big deal for Apple, because it's only the second store in the country and the first in the metropolis, which is Brazil's most populous city. The first Apple Store in Brazil was opened in Rio de Janeiro in February of 2014.


Apple has a bit of a tough time selling its products in Brazil because the prices are much higher than in other countries. Because of taxes and tariffs on imported goods, the entry level iPhone 6 is priced at R$ 3.499 in the country, equivalent to $1,100 in U.S. dollars, and $450 higher than the price in the United States.
Still, Brazil's first store opening in Rio was very popular, drawing more than 1,700 attendees, and the São Paulo store opening will likely garner even more attention due to the city's size. Last week, we got an early look into the São Paulo store, depicting a standard layout with no particularly impressive architectural flares.
When the Rio store opened, there were 20 days between the time when the barricades went up and launch took place, so if the São Paulo store follows a similar timeline, it could open in late April or early May.