Apple Looking for TV Networks to Bear Streaming Costs for Upcoming TV Service
For its upcoming streaming TV service, Apple is asking its content partners to take on the job of streaming television shows and movies to its customers, reports Re/code. Rather than hosting streaming content itself, Apple is requesting that its partners build out the necessary infrastructure and take on the related costs.
Apple is asking TV networks to handle the responsibility and cost of the streaming infrastructure associated with its Web video service, industry executives say. That issue is one of many unresolved questions about the proposed service, which Apple would like to launch next fall but can't until it lines up programming deals.
Negotiations for the streaming service are reportedly being conducted by iTunes chief Eddy Cue, who has told networks and potential partners that Apple wants to concentrate on software and hardware, areas where it excels, while leaving infrastructure concerns in the hands of people who are better suited to handle it.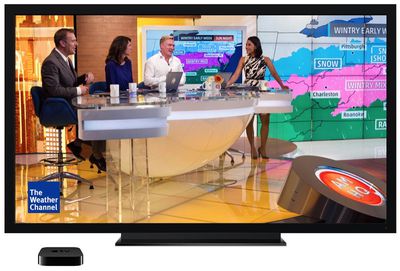 According to Re/code, the request isn't unusual because content that users stream from existing Apple TV channels and iOS apps is handled by the networks that provide the content, through partnerships with content delivery networks like EdgeCast. Though streaming services aren't overly expensive, at approximately 5 cents per hour per stream, the idea of dealing with the demand of an Apple television service available to millions has "given executives pause."
In addition to leaving infrastructure concerns to those with more experience, a source that spoke to Re/code believes that it's also possible Apple is hoping that if programmers provide the streams, Internet providers like Comcast and Verizon will be less likely to "penalize Apple's service."
Apple is rumored to be working with several partners on its upcoming streaming service, including CBS, ABC, Fox, Discovery, Disney, and Viacom. It may include around 25 channels, and pricing is said to be in the range of $30 to $40. The streaming service may make its debut in June at the 2015 Worldwide Developers Conference ahead of a fall launch.