Apple Begins Accepting Apple Watch App Submissions From All Developers
Apple announced on Tuesday that all registered developers can now submit Apple Watch app submissions based on WatchKit for approval on the App Store. A number of popular apps have already been updated with Apple Watch support on the App Store over the past week, and the approval process is now extended to all members of Apple's Developer Program.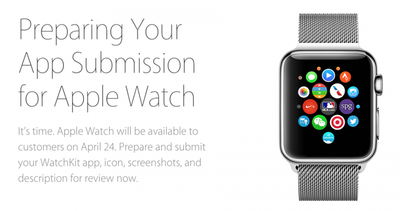 Apple has updated its WatchKit website with details on how developers can optimize the design and development of their Apple Watch apps, including the app's name, description, icon, screenshots, keywords, version number and build number. Apple Watch apps, excluding the ones that have already appeared on the App Store, should be steadily approved leading up to and following the launch of the wrist-worn device.
A select number of testers and reviewers will be able to access the apps prior to April 24, unless developers set the release date for their apps to "manual" and update on that date. Apple Watch apps that have started appearing on the App Store include Evernote, Sky Guide, Dark Sky, Target, NYTimes, Procreate Pocket, Yahoo Tourney Pick'em, ECB Cricket, The Wall Street Journal, MLB.com at Bat and Expedia.