Checkout Problems Hindering Growth in Apple Pay Usage
Apple Pay growth is being stymied by issues people are experiencing at checkout, including cashiers unfamiliar with the service and problems getting payment terminals to work. According to a new study conducted by Phoenix Marketing International (via Bloomberg) in February, these ongoing problems are resulting in fewer repeat usage attempts and missed payment opportunities.
Two out of three iPhone buyers surveyed linked a credit card to their iPhones to enable Apple Pay, and 88 percent of those used the service once in the past four months. On average, Apple Pay users made 2.6 in-store transactions using the payments service during its first four months of availability.
Two-thirds of Apple Pay users claimed to have run into problems at checkout, making the Apple Pay experience less appealing. 48 percent of those who had problems said the merchant took too long completing the transaction, 42 percent said the cashier was unfamiliar with Apple Pay, and 36 percent said transactions were posted incorrectly or double counted.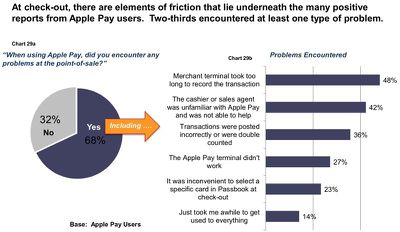 The Apple Pay terminal simply did not work according to 27 percent of respondents who had issues, and 23 percent said it was inconvenient to choose a card in Passbook. In a separate section, 47 percent of those who had attempted to use Apple Pay ran into problems with the store not accepting Apple Pay even though it was one of Apple's partners.
"However, the early-on transaction potential is being undercut by low repeat usage and lost payment opportunities," said Greg Weed, Director of Card Research at Phoenix. "The demand is there: 59% of Apple Pay users have gone into a store and asked to make a purchase with Apple Pay. But so is the disappointment: 47% visited a store that was listed as an Apple Pay merchant only to find out that the specific store they visited did not accept (or were not ready to accept) Apple Pay."
For the study, Phoenix surveyed 3,002 respondents. Of those, 532 owned an iPhone 6, 350 linked a card to Apple Pay, and 302 used Apple Pay to make a purchase at least once during the last four months. With a small sample size, it is difficult to draw concrete conclusions about overall Apple Pay usage habits and customer experiences, but Phoenix's survey seems to be reflective of issues users have had with the service.
In our own experiences at MacRumors, we've had multiple occasions where an Apple Pay terminal simply failed to work, or took several tries to register a payment. We have also seen Apple Pay partner stores that were not equipped to accept Apple Pay payments, and we've run into employees who knew little about the service.
At other locations, we've been forced to sign for purchases, greatly cutting down on Apple Pay's ease of use, and at times, we've also been asked to show ID for a purchase, causing us to pull out a wallet anyway. We've seen several other reports of problems with Apple Pay on our own forums, and several journalists have gone hands-on with Apple Pay and seen issues first hand.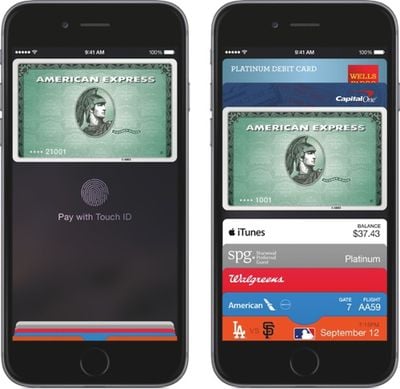 Apple Pay may still have hiccups to overcome, but the service has seen early success and will continue to improve with wider adoption. 72 hours after launch, Apple Pay had more than 1 million credit and debit activations, and from October through January, Apple Pay accounted for two of every three dollars spend through contactless payments on Visa, Mastercard, and American Express. As of March, Apple Pay is accepted at more than 700,000 locations in the United States, and merchant adoption continues to grow.
In January, Apple CEO Tim Cook said Apple Pay was "off to a very strong start" and that he expects 2015 to be "the year of Apple Pay."