New Interview Offers 'Inside Look' at Potential Origin of ResearchKit
ResearchKit, Apple's new open-source medical framework, was one of the unexpected announcements during the company's Spring Forward media event. Dr. Stephen Friend, one of the key members of the ResearchKit team, talked about the potential genesis of the project in a new interview with Fusion (via iMore).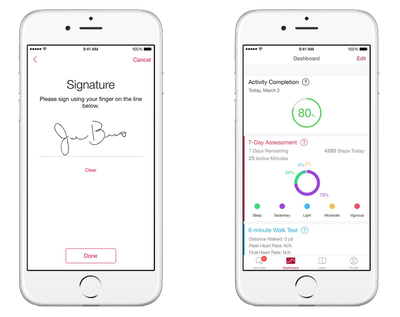 In September 2013, nearly one and a half years before ResearchKit was unveiled, Friend was at Stanford's MedX conference giving a talk about the future of medical research. He explained how he envisioned an open source system where users could upload their medical data to the cloud for researchers to use in trials.
Sitting in the audience that day was Michael O'Reilly, M.D., the former Chief Medical Officer and EVP of Medical Affairs at Masimo Corporation, a pulse oximetry company. O'Reilly had just left Masimo to join Apple, and wanted to build something that could "implement Friend's vision of a patient-centered, medical research utopia and radically change the way clinical studies are done."

After Friend's talk, O'Reilly approached the doctor, and, in typical tight-lipped Apple fashion, said: "I can't tell you where I work, and I can't tell you what I do, but I need to talk to you," Friend recalls. Friend was intrigued, and agreed to meet for coffee.
Shortly after his meeting with O'Reilly, Friend started making frequent trips to Apple's HQ in Cupertino, meeting with scientists and engineers. He also organized a DARPA-funded workshop exploring how biosensors could potentially help doctors and scientists understand Parkinson's Disease.
Euan Ashley, a Stanford University investigator behind the myHeart app, told Fusion that Apple largely acted as a "facilitator", building the ResearchKit framework in the background as the researchers designed and built the first ResearchKit apps by themselves. However, Apple did go meet with the U.S. Food and Drug Administration three months before the Spring Forward event to talk about medical research and smooth over any potential regulatory concerns.
Friend noted that even though his open-source ideals didn't totally mesh with Apple's view on open source at the time, he wanted to work with them rather than competitors like Google and Microsoft because Apple is a hardware company that doesn't need to sell data, and that he believed Apple when the company said it wouldn't look at the data being used in ResearchKit.
However, both Apple and Friend decided not to make the true origin of ResearchKit clear to Fusion. It's unknown whether the idea was Friend's or if Apple was developing it before Friend joined the team.
Thus far, ResearchKit has been a success for Apple, receiving thousands of sign-ups less than 24 hours after it was unveiled. In that time frame, 11,000 people signed up for one of the ResearchKit apps, myHeart Counts.
The rest of the interview also provides a good look at ResearchKit and can be read at Fusion's website.