Apple Tops Movie Product Placement Rankings for the First Time Since 2011
Branding website Brandchannel recently revealed the winners of the Brandcameo 2015 Product Placement Awards, which names the movies and brands with the most proliferation within Hollywood films over the past year. For the first time since 2011, Apple nabbed the 2014 Award for Overall Product Placement, appearing in 9 of the 35 films that topped the U.S. box office last year.
Brandchannel mentions the most influential Apple moments in films last year, perhaps the most popular of which is an extended scene in Marvel's blockbuster Captain America: The Winter Soldier, in which two of its protagonists use a MacBook Pro inside an Apple Store to hack into secretive S.H.I.E.L.D. data.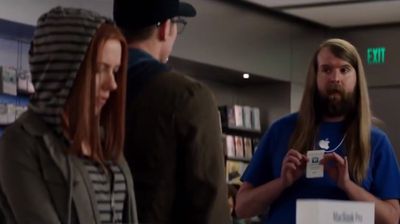 A quick tangential reference to an iPod Shuffle in The Lego Movie also helped Apple reign over previous winners like Budweiser (2013) and Mercedes-Benz (2012), and just barely beat out the likes of Coca-Cola and Sony for the award.

Apple bested both Coca-Cola and Sony by a single appearance, for which Apple can thank "The Lego Movie." The Apple logo doesn't appear in the film but Lord Business does talk about his iPod Shuffle. Recent winners Budweiser (2013) and Mercedes-Benz (2012) showed up in a distant five and six times respectively.

Other appearances include in "Ride Along," "The Other Woman," "Neighbors," "The Fault in Our Stars," "Think Like a Man Too," "Gone Girl" and "Ouija."
The website mentions that while Apple's return to product placement dominance in 2014, appearing in just over 25 percent of the top box office films, is a step up from the last few years, the company's brand appearances still remain well below its peak performance years. The brand saw the most proliferation in its "golden age" of 2009, appearing in nearly 50 percent of all number 1 movies that year. It dropped to 42.5 percent in 2011 and to just 15 percent in 2013.
The newly Apple-owned brand Beats, unfortunately, won the 2014 Award for Worst Product Placement. The company's popular Bluetooth speaker, the Beats Pill, popped up in a scene in the critically-panned Transformers: Age of Extinction, wherein Stanley Tucci creates a Pill using his mind and the fictional "Transformium" material that pushes much of the film's plot into motion.