Popular image editing tool Adobe Photoshop turns 25 years old today and plans to celebrate by showcasing a collection of artists, all under 25, who use its comprehensive suite of tools in new and unique ways.
Released on February 19, 1990 with a handful of basic editing features, the software has seen massive updates and overhauls throughout the years, with over a dozen major installments to its software since its first launch.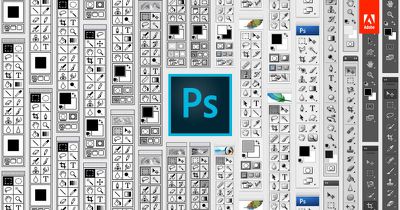 As pointed out by Adobe, the source of the company's continued success in the ever-changing modern world is its "constantly evolving capabilities" that allow its software to be used for everything from coffee mug design to the artwork of a Hollywood blockbuster.

"For 25 years, Photoshop has inspired artists and designers to craft images of stunning beauty and reality-bending creativity," said Shantanu Narayen, Adobe president and chief executive officer. "From desktop publishing, to fashion photography, movie production, website design, mobile app creation and now 3D Printing, Photoshop continues to redefine industries and creative possibilities. And today that Photoshop magic is available to millions of new users, thanks to Adobe Creative Cloud."
Adobe launched a new TV spot for the 25th anniversary, as well, called "Dream On," which it plans to air during The Academy Awards this Sunday. With the Hollywood production theme, the ad includes references to movies like Gone Girl, Avatar, and How To Train Your Dragon 2, and the occasions where each film used Photoshop in the process of the movie's production.
In honor of the occasion, the company is holding a "Top 25 Under 25" artist showcase, with hopefuls uploading their artwork to
Behance
and using the tag "Ps25Under25" to submit themselves for the top spots. The winning 25 artists in the end will take over
Photoshop's Instagram
, each given a two week hold over the account, to showcase their work for the world to see. The celebration starts today with artist Fredy Santiago - a 24-year-old Mexican-American artist from California - already
uploading
some of his work
to the social network.