Earlier this week, gesture recognition technology company eyeSight introduced ControlAir, an app that uses a Mac's camera to read finger-based movements, allowing users to control various media applications without needing to physically interact with their computers.
The app, which is free to download, works with many popular Mac-based entertainment apps like iTunes, Spotify, Rdio, Netflix, QuickTime, VLC and Vox. The main control scheme is a user's index finger, which, when raised, calls up ControlAir's user interface banner.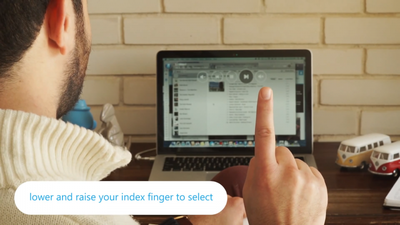 Users drag their fingers left and right to highlight the volume rockers, previous/next and play/pause buttons, lowering their index fingers in an "air-click" motion to select and raising their fingers to their lips to mute. Once the designated app is open, ControlAir's touch-free functions will still be able to be called up even if the ControlAir app sits in the background of another.
"ControlAir offers a simple way to control your music and video applications," said Gideon Shmuel, CEO of eyeSight. "Media apps are often running in the background and ControlAir keeps the control of those apps always accessible by simply raising a finger."
ControlAir's responsiveness is impressive, and the app is compatible with any iMac, MacBook Pro, and MacBook Air with OS X 10.9 or later, but its constant requirement of access to a computer's camera functionality may hinder its usability for some. As long as a compatible app is open, the green camera-indicating light will remain on until the app is closed. ControlAir can recognize gestures up to five feet away, according to eyeSight, but still picked up and smoothly recognized inputs from up to seven feet in MacRumors' testing.
The limits to the app's current functionality are hoped to be addressed incrementally in the future, with eyeSight specifically promising more entertainment app support will be "coming soon."
ControlAir can be downloaded from the Mac App Store for free. [Direct Link]