CES 2015: Reach79's iPhone 6 Case Claims to Double Signal Strength and Improve Battery Life
At CES 2015, Antenna79 announced a new brand of cases called Reach79 , which claims to boosts signal strength and performance up to two times for iPhone 6 and 6 Plus.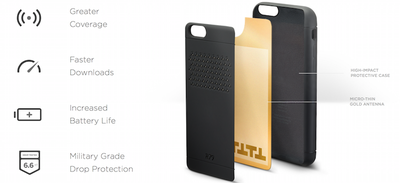 "We all want to get the most from our smartphones, and that's exactly what Reach79 cases were designed to do," said David Vigil, CEO, Antenna79. "Powered by patented antenna technology, Reach79 cases are the first performance-enhancing smartphone cases designed for speed. Each case is embedded with a micro-thin, gold-plated antenna that works to increase your smartphone's signal strength so your phone can do more for you."
Reach79 says that the stronger signal strength provided by its cases can improve battery life as the phone wouldn't have to work as hard to pick up a signal. Additionally, the company says it improves user experience with less dropped calls and faster download speeds and greater signal coverage. The cases also come with military grade drop protection.
The cases contain antenna technology that pairs with the antenna in the smartphone, granting increased signal strength for the device. Reach79 says the cases have been tested at CETECOM, a CTIA accredited facility that verified the cases can improve signal strength at an average of 1.6 times normal strength, with a peak performance of 2 times normal strength.
However, the company does warn that user experience also depends on device, carrier and location.
The Reach79 cases can be purchased starting today at the company's website. The iPhone 6 case is priced at $59.99 while the iPhone 6 Plus version is priced at $69.99. The cases currently come in black only, but Reach79 says additional colors are on the way in the first quarter of 2015.