Kensington's ubiquitous hold on security locks for computers and other devices has loosened somewhat as devices have grown smaller and more portable, and the space requirements for the company's traditional lock mechanism have led Apple to even omit Kensington security slots from many of its recent products such as the MacBook Air and Retina MacBook Pro.
Kensington hopes, however, to reinvigorate the security lock with today's announcement of the new MiniSaver Mobile Lock designed specifically for use on ultra-thin notebooks and tablets and touted as "the industry's thinnest security lock system."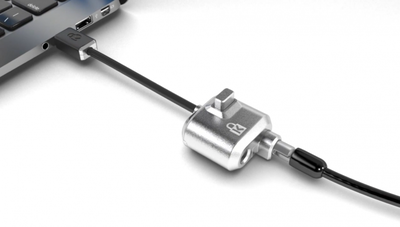 As opposed to the traditional "T-Bar" mechanism used for years by Kensington, the new MiniSaver lock features a patented "Cleat" locking design, including the smallest attachment points the company has ever made, to safely and securely provide ease of mind when leaving a computer or tablet alone in a public space or at the office.
The company says it's aware that though the technology has gotten smaller over the years, consumers' security needs haven't, and the MiniSaver is Kensington's answer to that problem. While the original Kensignton slot design is intended for devices at least 12 mm thick and requires internal vertical clearance of at least 7.5 mm for the T-Bar to rotate into locking position, the MiniSaver requires only about 3 mm of vertical clearance, allowing for installation on thinner devices.
"Today's increasingly mobile workforce is creating more demand than ever for ultra-thin devices and those devices need protection to prevent the mounting risk of theft and resulting data breaches," said Judy Barker, Global Product Manager, Kensington. "The first-line-of-defense provided by physical security locks can stave off device theft and save businesses and their employees from the costly exposure of a data breach. With our revolutionary MiniSaver design, now protection is not only easy but sleek and convenient as well."
Amongst other features, the lock also provides one-handed operation thanks to the simple push of a button on the security lock, includes a cut and theft-resistant carbon steel and protective plastic-lined cable, and allows greater freedom of movement and reduced blockage of nearby ports thanks to an off-body lock and pivot-and-rotate cable.
Kensington's MiniSaver Mobile Lock is available to purchase online now with prices starting at $59.99.