Clear and Ember developer Realmac Software today launched Typed, a new Markdown writing app for the Mac that emphasizes a minimal, responsive UI with multiple export features and customizable typefaces.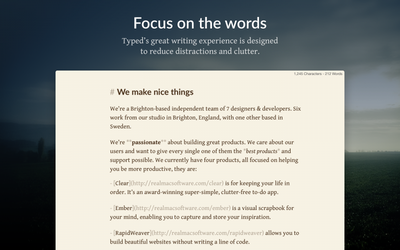 When a user is writing inside of Typed, the app's interface automatically scales text to fit the current window size and contains a live character and word count functionality. Content written inside of the app can also be automatically exported to a number of formats including HTML, RTF, and PDF with auto save and auto preview options.


The app also contains a full screen feature called "Zen Mode" which includes six soundtracks designed to help a writer's focus, and contains six font choices with one signature typeface that differentiates headers from body text. Typed also contains intelligent cursor placement when formatting text, keyboard shortcuts akin to other writing applications, and support for OS X Yosemite and OS X Mavericks.
Typed is available for $19.99 from the Realmac Software store.