AppleCare for Enterprise With On-Site Support From IBM Now Live
Earlier this year, Apple and IBM announced a major enterprise mobility partnership that would see IBM selling iOS devices to its corporate customers, creating industry-specific native apps, providing iOS-optimized cloud services, and providing support for a new AppleCare service.
IBM and Apple are now moving forward with their partnership, and Apple has recently launched a new AppleCare for Enterprise website, suggesting that its promised enterprise-grade AppleCare plan is now available for IBM's enterprise customers.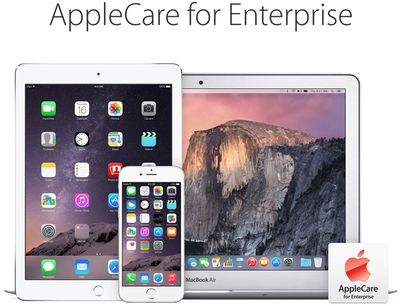 As detailed on the website, all AppleCare for Enterprise accounts are handled by an AppleCare Account Manager, providing a personal liaison with AppleCare. Apple promises a one-hour response time for all urgent issues, with IT department-level support available 24/7 via phone or email. All AppleCare for Enterprise customers can also replace 10 percent of damaged iOS devices, giving businesses an easy way to replace iPads or iPhones that have been accidentally damaged by employees.
As promised during the announcement of its IBM partnership, Apple is offering an onsite hardware repair service for AppleCare for Enterprise customers. While Apple is handling all email and phone requests, IBM Global Technology Services will provide onsite repairs.
You have the option to get onsite service coverage for two or three years from the date of your hardware purchase. If you have a hardware issue during that time, AppleCare for Enterprise will help get you back up and running quickly. IBM's Global Technology Services, a worldwide Apple Authorized Service Provider, will provide onsite service within the next business day.
The new AppleCare for Enterprise site comes just ahead of IBM's first dedicated enterprise-focused iOS apps. During Apple's recent earnings call, Tim Cook said that next month, IBM will introduce apps across six sectors: banking, government, insurance, retail, travel, and transportation and telecommunications.
Pricing on the Enterprise plans is unknown, but enterprise customers interested in finding out more about Apple's AppleCare for Enterprise plans are encouraged to contact their Apple or IBM Account Executives.
(Thanks, Craig!)