Amazon Launches $39 'Fire TV Stick' to Compete With Chromecast, Apple TV
Amazon today announced the launch of a new Fire TV Stick, designed to compete with Google's Chromecast and Apple's Apple TV. The Fire TV Stick is a media streaming stick much like the Chromecast, designed to allow users to plug it in to the HDMI port of a television to access content like TV shows, movies, games, and more.
The Fire TV Stick offers a dual-core processor, 1GB of RAM, 8GB of built-in storage, and dual-band/dual-antenna MIMO Wi-Fi. It can be controlled with a remote control, a smartphone, or voice control through an app. According to Amazon, it offers 50 percent more processing power than the Chromecast, along with 2x the memory and 32 times more storage.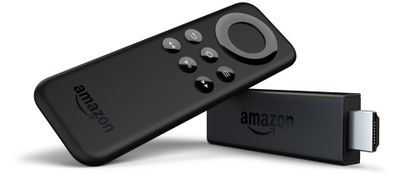 "Fire TV Stick is the most powerful streaming media stick available--a dual-core processor, 1 GB of RAM, 8 GB of storage, dual-band and dual-antenna Wi-Fi, included remote control, voice search with our free mobile app, easy set-up, an open ecosystem, and exclusive features like ASAP for instant streaming," said Jeff Bezos, Amazon.com Founder and CEO. "The team has packed an unbelievable amount of power and selection into an incredible price point--Fire TV Stick is just $39."
In addition to allowing users to access Amazon Prime content, the Fire TV Stick also supports third-party apps like Netflix, Hulu Plus, WatchESPN, Spotify, Pandora, and more, delivering much of the content that's also available on competing products like the Chromecast, the Apple TV, and products from Roku.
The Fire Stick offers "Fling" technology, letting users switch between viewing content on their televisions and Fire Phone or Fire tablet, and it provides wireless mirroring from both compatible Amazon products and those that support Miracast. It also supports various Amazon technologies like X-Ray for looking up movie, music, or TV show information, and it utilizes Whispersync to sync all of a user's content.
Amazon also has the Fire TV, a set-top media streaming box that's a closer competitor to the Apple TV than the Fire TV stick, but the slimmed down plug in-based media sticks from Amazon and Google are far cheaper than the Apple TV, which still costs $99.
While Google and Amazon have concentrated on offering a slimmer portable media solution to consumers, Apple is said to be working on a revamped set-top box that might include support for third-party apps and games along with deeper integration with cable TV channels. It is unclear when Apple might launch its revised set top box, as development has reportedly been delayed several times over the course of the last two years.
Amazon's Fire TV Stick is priced at $39, but for the next two days, Amazon Prime members will be able to purchase the device at a discounted price of $19.