First Week OS X Yosemite Adoption Rates Slightly Outpacing Mavericks
Six days after being made available to the public, OS X Yosemite was installed on approximately 12.8 percent of Macs in North America, according to adoption numbers released by Chitika. That's just a slight bit higher than the 12.4 percent of Macs Mavericks was installed on six days after its release in 2013.
Ahead of its launch, Yosemite adoption by beta testers and developers was more than 33 times higher than the adoption of Mavericks, and as measured by Chitika, its one percent share of North American Mac OS X-based Web traffic on the first day after release was double the day one adoption rate of Mavericks and Mountain Lion.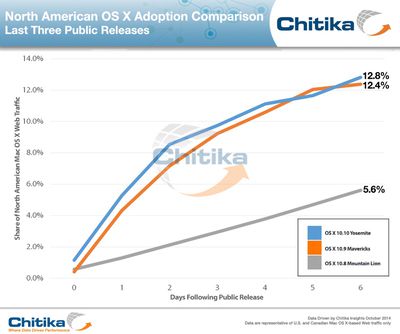 OS X Yosemite may be seeing slightly faster adoption rates as the operating system introduces a complete visual overhaul along with several features that allow it to deeply integrate with iOS 8. While Mavericks focused heavily on under-the-hood updates that improved battery life and responsiveness, OS X Yosemite brought revamped apps, Continuity, Notification Center improvements, iCloud Drive, and more. Chitika also speculates that the OS's public beta may have positively impacted its adoption numbers.
Apple had previously made a public beta of the OS available for the first time in the company's history, and this seems to have helped boost initial adoption rates slightly beyond what was observed for OS X Mavericks back in 2013.
Chitika's numbers are drawn from millions of U.S. and Canadian Mac OS X-based online ad impressions from the Chitika Ad Network. Chitika measured ad impressions from October 16 to October 22 to acquire its data. Similar but somewhat higher numbers are being reported by GoSquared, which offers real-time analytics that measure OS X traffic.

Yosemite installation numbers from GoSquared
According to the site, Yosemite is installed on approximately 16 percent of Macs, though numbers fluctuated up to 10 percent over a seven day period as GoSquared measures real-time visits to more than 50,000 sites.

Yosemite installation rates over the past 7 days, measured by GoSquared
Released on October 16, OS X Yosemite is available from the Mac App Store as a free download. It is compatible with all Macs that were previously able to run Mountain Lion and Mavericks. [
Direct Link
]