iPad Mini 3 Teardown Reveals NFC Controller for Apple Pay, Hot Glued Home Button
After tearing down the iPad Air 2 earlier this week, iFixit has now moved on to the iPad mini 3, which also received a minor update during Apple's October 16 iPad event. Unlike the iPad Air 2, the iPad mini 3 saw few internal improvements, gaining a new gold color option and a Touch ID fingerprint sensor.
As expected, iFixit's teardown reveals many of the same parts that were used in first Retina iPad mini, now called the iPad mini 2. It continues to use the same 7.9-inch display, A7 processor with M7 coprocessor, 5-megapixel camera, and 802.11n Wi-Fi.
There is one new addition, which is directly related to Touch ID and the iPad mini 3's ability to support in-app Apple Pay payments. Like the iPad Air 2, the iPad mini 3 includes a 65V10 NFC controller manufactured by NXP.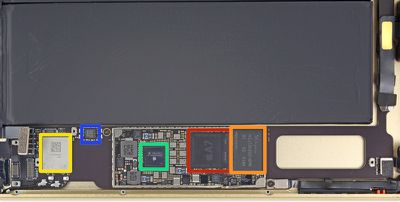 NFC Controller in blue
There is no accompanying NFC antenna to allow the tablet to make NFC-based payments within stores, but there has been strong speculation suggesting the NFC chip is where Apple Pay's "Secure Element" is located. According to Apple, the Secure Element
is a dedicated chip
that stores encrypted Device Account Numbers, which replace credit card numbers for security reasons.
Though the iPad mini 3 and the iPad Air 2 are not able to make payments within stores, they can make Apple Pay payments within participating apps and thus utilize both the Secure Element and Device Account Numbers.
NXP's own site details the use of a specific integrated circuit designed for handling and storing secure data on its website, stating the technology has been integrated into its NFC controller chips. While the 65V10 is not mentioned by name, its appearance in both the iPad Air 2 and the iPad mini 3 suggests that it is indeed being used for its security function rather than its NFC function.
Aside from the inclusion of the 65V10 NFC chip, which is located in a spot on the logic board that was previously left blank, there are few other notable features about the iPad mini 3. iFixit did find that the tablet has new home button cabling to support Touch ID and home button brackets that are securely affixed by hot glue, which makes removing the home button a much more difficult task.


Like the Touch ID cable in the iPhone 5s, the location of the Touch ID cable in the iPad mini 3 makes screen repairs very difficult, as the cable is easy to sever when opening up the display. Due to the glue and the precarious position of the Touch ID cable, the iPad mini 3 earned a repairability score of 2 out of 10 from iFixit.
Apple's iPad mini 3 is currently available in both retail stores and from Apple's online store, with prices that start at $399.