iPad Air 2 and Retina Mini iPad 3 Pre-Orders Arrive as Apple Begins In-Store Sales
Following the launch of pre-orders last Friday, Apple's new iPad Air 2 and Retina iPad mini 3 models are now making their way into customers' hands and onto retail store shelves. According to The Inquirer and reports from MacRumors readers, pre-orders are now being delivered, and the tablets are now available for purchase online and in store.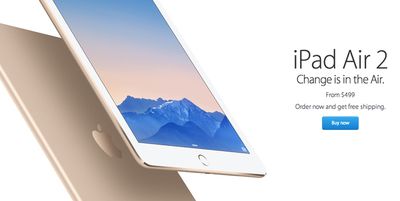 Customers in launch countries of the UK and Australia started receiving their tablets today and have already posted unboxing videos. Unlike the iPhone 6 which featured a plain white box, customers report the box for the iPad Air 2 is similar to the original iPad Air with a color representation of the iPad on the cover.
Apple's online store also is still
accepting orders
with delivery dates of 2 to 4 days for most iPad Air 2 models. In-store pickup for the Air 2 is not available yet for online shoppers, but we have heard from multiple sources that Wi-Fi models are arriving at at least some of Apple's own retail stores for sale beginning today. Based on online ordering, iPad mini 3 supplies are more abundant, with most Wi-Fi models currently available within 24 hours and cellular models shipping in 1-3 days.
Apple announced the iPad Air 2 last week, highlighting the device's new A8X processor, Touch ID sensor and improved camera. Early benchmarks suggest the iPad Air 2 is up to 55 percent faster than the iPhone 6 and 68 percent faster than last year's iPad Air. The first round of reviews of the Air 2 point out benefits such as a thinner profile and vibrant display, while also noting a slight decrease in battery life compared to the previous generation.
While the Air 2 has received fairly strong reviews, the iPad mini 3 has been less well received with most reviews noting the device's similarity to the iPad mini 2. The iPad mini 3 ships with the same processor and camera options as its predecessor, with the only notable improvements being a Touch ID fingerprint sensor and a new gold option.
The iPad Air 2 is available with a starting price of $499 for the 16GB Wi-Fi-only model, with equivalent cellular models available for $130 more. The iPad mini 3 starts at $399 and is available in Wi-Fi-only and cellular configurations.