Late 2014 Mac Mini Benchmarks Indicate Decreased Multi-Core Performance
The newly refreshed Mac mini is seeing improved single-core performance over the previous models, but decreased multi-core performance, according to a newly released GeekBench benchmark. John Poole of Primate Labs says that the upper tier Late 2012 Mac minis, which had quad-core Ivy Bridge processors, saw better multi-core performance than the new Late 2014 models, which have dual-core Haswell processors.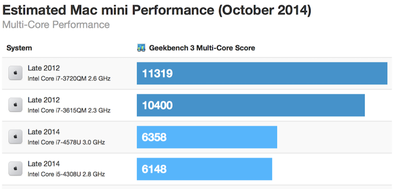 Unlike single-core performance multi-core performance has decreased significantly. The "Good" model (which has a dual-core processor in both lineups) is down 7%. The other models (which have a dual-core processor in the "Late 2014" lineup but a quad-core processor in the "Late 2012" lineup) is down from 70% to 80%.
Poole notes that Apple may have switched to dual-core processors in some Late 2014 Mac minis because Haswell dual-core processors use one socket to connect the logic board and processor while Haswell quad-core processors use different sockets. This would mean Apple would have to design and build two separate logic boards specifically for the Mac mini, while other Macs use the same logic boards across its individual line.
This trade-off didn't exist with Sandy Bridge and Ivy Bridge processors because both of its dual-core and quad-core processors used the same socket. Another option, according to Poole, is that Apple could have went quad-core across its new Mac mini line, but it would have made it difficult for Apple to hit the $499 price point.
Despite the decreased quad-core performance, the single-core performance of the new Mac mini is in line with other Macs' performance jumps from Ivy Bridge to Haswell.
Base configurations for the Mac mini are currently available for purchase on Apple's online store with pricing starting at $499 and will ship in one to three days. Custom configurations ship within three to five days.