Live Coverage of Apple's October 2014 iPad and Mac Event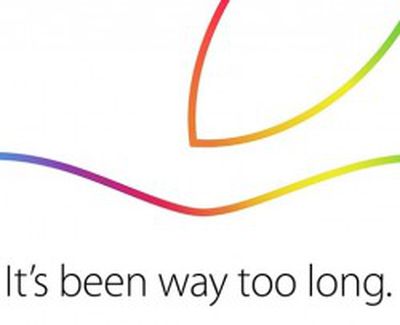 Just over a month after it introduced the iPhone 6 and Apple Watch, Apple is back with another media event where it is expected to show off new iPads, new iMacs including high-resolution Retina displays on some models, and likely a final look at OS X Yosemite before its imminent public launch.
Today's event is being held at the Town Hall auditorium on Apple's Cupertino headquarters campus and begins at 10:00 AM Pacific Time / 1:00 PM Eastern Time. Apple will be providing a live video stream on its website for Mac and iOS users and via Apple TV.
Live Video Stream of Apple's October 2014 iPad and Mac Media Event
In addition, we will be updating this article with summary coverage and issuing Twitter updates through our @MacRumorsLive account as the event unfolds. Highlights and separate news stories regarding the event announcements will go out through our @MacRumors account.
Apple's online stores around the world are currently down in advance of the event.
Archive of Live Updates in Reverse Chronological Order
11:21 am: The keynote is concluded.
11:19 am: And we are just getting started.
11:19 am: This is our vision of personal technology.
11:19 am: Designed to be incredible products individually. Also designed to work together seamlessly. Because we create both the hardware and the software, we can deliver something that no one else can do. A simple, intuitive and yes, magical experience for our customers.

11:19 am: This incredible lineup of products and the ecosystem that supports them is something only Apple can create.
11:18 am: iPhone 6 and 6 Plus. Soon, that powerful technology will go right on your wrist.
11:18 am: Made our notebooks even better this year with MacBook Air and MacBook Pro. Sometimes you want to be close to your content. Touching it. We've made that experience better today with the iPad Air 2.
11:17 am: Sometimes you want to sit in front of a huge immersive screen, packed with powerful technology.
11:17 am: Each one of these play a very important role. People need different types of technology for the way they live their lives.
11:17 am: Tim Cook back on stage. "Strongest lineup of products that Apple has ever had."
11:16 am: Shipping today.
11:16 am: Previously started at $599, new mini starts at $499.

11:16 am: 4th-gen Intel Core processor, Intel Iris and HD Graphics, PCIe-based flash storage, 802.11ac Wi-Fi, 2 Thunderbolt 2 ports, world's most energy efficient desktop.
11:15 am: One other small update today. Mac Mini.
11:15 am: Keeping 21.5 and 27" iMacs around in addition to the 27" iMac.
11:15 am: Shipping today.

11:14 am: New iMac with Retina 5K starts at $2499.
11:14 am: New high-end 4K display costs around $3000.
11:14 am: Thunderbolt 2, Fusion Drive.
11:13 am: 3.5GHz quad-core i5, upgradable to 4.0GHz quad-core i7. AMD Radeon $9 M290x, upgradable to M295X.
11:13 am: "By far the most amazing iMac we've ever built."

11:10 am: Dan Riccio. "On an iMac, the experience begins with the display."
11:10 am: Running a launch video to show off the new iMac.
11:09 am: Most beautiful desktop display for everything you do.
11:09 am: Showing off technology for the new screen, including more efficient backlight and timing controller. Uses 30% less energy.
11:08 am: Fit those 14.7 million pixels into iMac design, just 5mm thin at the edge.
11:08 am: 67% more pixels than 4K.
11:07 am: HDTV has 1920x1080. 7x more pixels on Retina 5K display than on HD display.
11:07 am: 27" display, 14.7 million pixels. World's highest resolution display. Retina 5K display.

11:07 am: 5120x2880
11:06 am: "Never been a desktop display like this."

11:06 am: Showing video, shows off iPhone, iPad, iPad mini, MacBook Pro... all with Retina display. Now, new iMac with Retina display.
11:05 am: Today, we're really happy for you to see the continued march of Retina technology. Next step we're going to take with it:
11:05 am: Giving overview of Mac lineup.
11:05 am: New MacBook Air this summer.
11:04 am: Our customers love their Macs.
11:04 am: Mac growth, up 18% year over year, rest of PC industry down 1%.
11:04 am: It's the 30th birthday of the Mac this year and these are the best ever.
11:04 am: "Let's talk a little bit about what's happening with the Mac."
11:04 am: Each Apple product is pushing on the next. Challenges us at the higher end to move forward.

11:03 am: Pre-order new iPads starting tomorrow, shipping next week.

11:03 am: iPad mini 2, iPad mini 3, iPad Air, iPad Air 2. Mini 2 and iPad Air drop by $100. iPad mini sticking around for $249.
11:02 am: $399/499/599 for 16GB/64GB/128GB Cellular for $529/629/729.
11:02 am: iPad mini 3. Third-generation. Silver, space gray, gold. Includes new Touch ID as well.
11:02 am: $629/729/829 for cellular versions.
11:01 am: $499/599/699 for 16GB/64GB/128GB in Wi-Fi versions. Silver, Space Gray, Gold.
11:00 am: New iPad Air 2 packed with range of new innovations.
11:00 am: Two examples of apps that take unique advantage of iPad.

10:57 am: New video editing app called Replay.
10:56 am: Pixelmator for iPad is coming later this month to the App Store.

10:55 am: Able to bring repair tool from Mac version to the iPad.
10:55 am: Pixelmator team on stage to debut Pixelmator for iPad Air.

10:54 am: "Best way to shop online."
10:53 am: Apple Pay for purchases made with Apps.

10:52 am: Also adding Touch ID. Perhaps most requested feature from customers.
10:52 am: Faster Wi-Fi, 80211ac with MIMO. 2.8x faster performance up to 866Mbps. Faster LTE, 150Mbps, 20 LTE bands.
10:52 am: New FaceTime camera on the front, larger 2.2 aperture, 81% more light, improved face detection, burst selfies, Single-shot HDR photos. HDR videos.
10:51 am: 120FPS.
10:51 am: Slo-mo video. 720p FPS.
10:50 am: Large panoramas up to 43 megapixels. Burst mode photos. Time-lapse.

10:49 am: 8MP iSight camera, 2.4 aperture, 1080p HD video, Apple-designed image signal processor.
10:47 am: New M8 coprocessor. iSight Camera makes a lot of sense. Best viewfinder for taking photos and videos.

10:47 am: 10-hour battery life.
10:46 am: 12x faster than the original iPad on CPU, 180x faster on graphics.

10:45 am: A8X chip, 2nd-gen 64-bit architecture, 3 billion transistors, 40% faster CPU, 2.5x faster GPU.
10:45 am: New anti-reflective coating, never been done in a tablet before. Reduces reflection by 56%.

10:45 am: Laminated the screen with no air gap. Reduces internal reflection for sharper image and thinner display.
10:44 am: Two iPad Air 2 stacked is still thinner than the original iPad.

10:43 am: 6.1mm thick, 18% thinner. Thinnest iPad ever. World's thinnest tablet.
10:43 am: Phil Schiller coming on stage to discuss the new iPad.
10:43 am: "It's unbelievably gorgeous. Look how thin it is! Can you even see it?
10:42 am: iPad Air 2, now available in gold.
10:42 am: A laser is cutting the top of the pencil off to show how the new iPad Air is even thinner than before.

10:42 am: Running a new ad, with a new pencil.
10:42 am: You do this:
10:42 am: What do you do when you make the best tablet in the world? How do you make it better?
10:41 am: When we launched the iPad Air a year ago, we did it by showing how all this power of the iPad is in a design that's so thin, it's thinner than a pencil.
10:40 am: You can do so many things on iPad and you have such a great experience doing it. Root of this, we have 675,000 apps on the App Store.
10:40 am: Why are so many iPad users so satisfied? Unique blend of simplicity and capability.
10:40 am: iPad Mini Retina has scored 100% customer satisfaction rating.
10:39 am: To put this in a little more perspective, top four sales of PC manufacturers in last four years, compare to iPad, iPad beats them all. This is their entire PC lineup. Every notebook, every desktop, every 2-in-1, every all-in-one.

10:38 am: "iPad is everywhere. Informing the way we work, the way we learn, the way we play. Transforming the way we communicate."
10:37 am: Now moving on to iPad.
10:37 am: "I hope Stephen can do a better job than I have controlling those leaks."
10:36 am: Tim Cook coming back on stage.
10:36 am: New iWork for iOS and Mac, available today, free.
10:36 am: iOS 8.1, including support for Apple Pay, iCloud Photo Library, available free beginning on Monday.
10:36 am: Available free.
10:36 am: OS X Yosemite available on the Mac App Store today.
10:35 am: Craig is focusing on the humor today.
10:35 am: "I think you now have a full understanding of Continuity."

10:34 am: Making a Keynote presentation, using Apple Watch to control the Keynote presentation.
10:33 am: "Get back to work. You know what I see when I look at my wrist? I see my wrist! Chop chop!"
10:32 am: Wants to be called "Supreme Allied Commander of Super Secrecy". It was good enough for Ike, it's good enough for me!

10:31 am: Calling Stephen Colbert, Apple's "Chief of Secrecy", from his Mac.
10:30 am: Craig showing how he can receive SMS messages on an iPad, open a link in Safari, then seamlessly open that site on his Mac.


10:28 am: "Time to take secrecy to the next level."
10:27 am: "Tim has sent me a note about "Doubling Down on Secrecy""
10:27 am: Craig starting with a demo. "Live in the world of continuity."
10:27 am: Handoff, Instant Hotspot, Text Messages on any device, Make and Receive Calls using Mac as a speakerphone. "It's really magical."
10:26 am: Talking about AirDrop and AirPlay, and continuity.
10:25 am: iOS 8 and Yosemite work together. At the center of that is iCloud.
10:25 am: "Just some of the new user features in Yosemite."

10:23 am: Yosemite gives 3 hours better battery life for Netflix streaming than competing browsers.
10:22 am: Touting new features in Yosemite: Extensions, Notification Center, New Dock, New Safari

10:20 am: OS X Yosemite: Over a million members of the Mac community signed up for the Yosemite public beta.
10:20 am: All photos and videos, original format and resolution, available in public beta with iOS 8.1. Uses iCloud storage.
10:19 am: Bringing back the Camera Roll. Public beta of iCloud Photos.
10:19 am: Got some "feedback" on iOS 8. Improvements coming in iOS 8.1. "Addressing top user feedback."
10:18 am: IBM has embraced the new Swift language for its internal app development.
10:17 am: Craig is continuing to give an overview of iOS 8, including Metal, Touch ID, and more.
10:15 am: Discussing apps updating with support for new iOS 8 features like Notification Center Widgets and other extensibility features.
10:14 am: Now quoting Android market share numbers. After 313 days, latest version of Android has just 25% of its user base. iOS 8 has double that in 26 days.
10:13 am: 48% of customers using iOS 8 "in just under four weeks." In combination with iOS 7, 94% are running an operating system that shipped in just over the last year.

10:12 am: Craig Federighi coming on stage.

10:12 am: Most advanced operating systems on the planet. Some terrific updates on OS X Yosemite and iOS 8.
10:12 am: Each product isn't only the best in class in its category, but they've been designed to work seamlessly together.
10:12 am: "Our strongest product lineup ever."
10:11 am: Apple Watch will ship in early 2015.
10:11 am: We can't wait to see what amazing experiences they will come up with.

10:11 am: Today, we've developed WatchKit, where many other developers can join this party. We are rolling out WatchKit next month. SDK available in November.
10:11 am: Unique, personal experiences for Apple Watch.
10:10 am: As we showed you last month, we have been working with selected third-party developers on Apple Watch.
10:10 am: This month, the Apple Watch is on the cover of Vogue China. "We are really proud of this."
10:10 am: Great reception from health and fitness community, and people who know a lot about fashion and style. "Even more than I do."

10:09 am: Now talking about Apple Watch.
10:09 am: Apple Pay launching Monday October 20th.
10:09 am: We believe Apple Pay is going to be huge. It's going to change the way we pay for things. I'm excited to announce today, that we are beginning on Monday.

10:08 am: Even more retailers rolling out between now and the end of the year.
10:08 am: Starting in the U.S., American Express, MasterCard and Visa. Nation's top banks. Signed another 500 banks since announcement last month. Rolling out support later this year and early next year.
10:07 am: Apple Pay is built right into Passbook. Everything you need is built into iPhone 6 and 6 Plus. The easy, secure, and private way to pay.
10:07 am: iPhones also get the benefit of another major announcement we made last month: Apple Pay.
10:07 am: This is our biggest iPhone launch ever.
10:06 am: Very first time we've launched a new iPhone on all three networks in China, perfectly aligned to the early stages of China's huge 4G rollout. Couldn't be more excited about this. Preorders, as you might guess, have set a new record. We can't wait to get started.
10:06 am: Our rollout around the world is going well. By the end of this week we'll be in 32 countries. In just a few hours from now, we'll launch in China.
10:05 am: Fastest-selling iPhone in history. Most first month orders ever. "I don't mean by a little... by a lot! A whole lot!"
10:04 am: These phones are the best phones we have ever created. And the reviews have been off the charts.
10:04 am: We had an amazing reception to the iPhone 6 and 6 Plus launch. "Stores were electrifying!"
10:04 am: "Good morning!" Thanks everyone for joining us this morning. It's been an incredible year. And tremendously busy already, but we've got a few more things to share with you before we close out the year.

10:04 am: Video complete and Tim Cook comes out on stage.

10:02 am: Video beginning showing Apple retail store launches around the world.
10:01 am: Lights are going down and the event is about to begin.
9:59 am: With two minutes to go, the background music is Love Runs Out by OneRepublic.
9:57 am: "Ladies and gentlemen, our presentation will begin shortly. As a courtesy to our presenters and other people in the audience, please take this opportunity to switch all devices to silent mode."
9:55 am: The first song was Elevate by St. Lucia, now Cool Kids by Echosmith.
9:53 am: With a little less than ten minutes until the iPad event begins, Apple's livestream has begun at Apple.com/live, showing its standard Public Relations copyright banner.
9:39 am: Just over 20 minutes until showtime.
9:23 am: Under 40 minutes until the event kicks off. Media are gathering in the lobby of 4 Infinite Loop outside and waiting to be admitted to the Town Hall auditorium.