Apple Likely Planning October 24 Launch Date for New iPads
With Apple's October media event coming up later this week, the company has reportedly already begun shipping mass quantities of new product into the U.S. and appears to be setting up for a Friday, October 24 availability date, according to a source that has provided accurate information to MacRumors in the past.
The specific product being shipped was not identified by the source, but it likely is Apple's rumored upcoming iPad, though it is not clear which model -- the iPad Air 2, the Retina iPad mini 2, or both -- is being transported.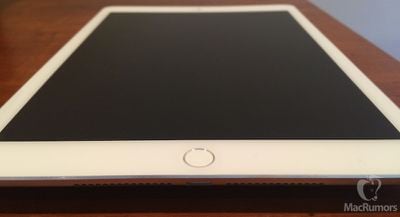 Physical mockup of iPad Air 2 with Touch ID
The timing would be consistent with Apple's usual strategy for such launches, coming just over a week after the product's introduction. With the exception of major new category products like the
Apple Watch
or those for which there are severe production constraints, Apple typically unveils a product and ships it within a short period of time if not on the same day. Last year, Apple announced the iPad Air and Retina iPad mini on October 22 and launched the iPad Air on November 1, with the Retina iPad mini landing a few weeks later due to short supplies.
Based on these shipping estimates, Apple likely will announce its new iPad Air 2 and possibly an updated Retina iPad mini on Thursday with a target launch date of October 24. There is no word yet on the possibility of pre-orders, but if Apple does offer a pre-order period, it will likely start very soon after the event in order to allow shipments to be positioned for delivery on launch day.