Apple Pay Roundup: Everything We Know, Coming in October
Apple Pay is Apple's new mobile payments service, which it first debuted in September alongside the iPhone 6, the iPhone 6 Plus, and the Apple Watch. Apple Pay is expected to become widely available to consumers beginning in October, and ahead of its official release, we've gathered everything that's currently known about the service into a roundup so users can get an idea of what to expect.
With Apple Pay, iPhone 6 and 6 Plus owners will be able to make payments for goods and services with their iPhones, both in stores and within participating apps, using the NFC chip built into the devices. While Apple Pay will initially be restricted to iPhone 6 and 6 Plus owners, iPhone 5, 5c, and 5s users will also be able to take advantage of the service if they purchase an Apple Watch after it is released.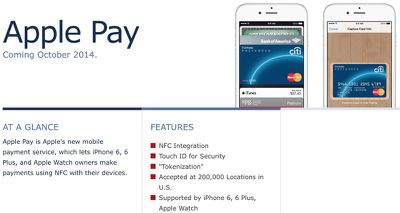 Apple has described Apple Pay as the most secure payment solution available, as it uses Device Account Numbers rather than storing credit card numbers and keeps all payment information in a dedicated chip on the iPhone, called the Secure Element.
All payments are verified using Touch ID, which prevents someone who has stolen a device to make unauthorized purchases. Furthermore, if an iPhone 6 or 6 Plus is stolen, its ability to make payments can be disabled through Find My iPhone.
Apple has said that Apple Pay will be available beginning in October, enabled through an upcoming update to iOS 8.
The Apple Pay roundup, like all of our other roundups is accessible through a dedicated index page that shows a full list of all available roundups ordered by most recent update. The roundup is also accessible directly through the "Roundups" tab in the top navigation bar on all MacRumors pages.