Apple has sent out invites to multiple AppleSeed testers to invite them to participate in a "AirDrop Test Fest" to fix any potential bugs in the file sharing service ahead of the launch of OS X Yosemite.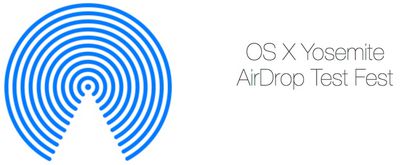 AppleSeed and the AirDrop engineering team would like you to join us for an AirDrop Test Fest. What's a test fest? At Apple we often hold test fests when we want to focus our efforts on a new feature or enhanced function of OS X. Now we want to bring that experience to our seed participants. We would like you to help us test the new AirDrop in OS X Yosemite.
According to 9to5Mac, invited users will see a notice located in the Feedback Assistant app bundled with the public beta of Yosemite. Testers are given guidelines for testing the feature, including two Macs running Yosemite.
What do I need? To participate in the AirDrop Test Fest you will need at least two Macs from the following:

- 2012 Mac or later for new AirDrop

- Any Mac for Legacy AirDrop (old Mac to Mac only)

The Macs will need to be running the latest seeded build of OS X Yosemite. If you also want to test with your iPhone or iPad you will need device with a Lightning connector running iOS 7 or iOS 8.
Apple's "AirDrop Test Fest" will last from today, September 24, until Sunday, September 28. Apple has set up a special discussion topic for the event, inviting testers to contribute observations and results, and the company will be providing a "special AirDrop survey" that guides users through usage scenarios the company would like to explore.