Tim Cook Helps Kick Off iPhone 6 Sales at Palo Alto Retail Store
With Apple's retail stores beginning sales of the iPhone 6 and 6 Plus today, customers have been lining up to either pick up their pre-ordered devices or take their chances on launch-day supplies without reservations. Piper Jaffray analyst Gene Munster conducted his annual line count at Apple's flagship Fifth Avenue store in Manhattan and found a record 1,880 people in line at 8:00 AM, an increase of 33% over last year's line.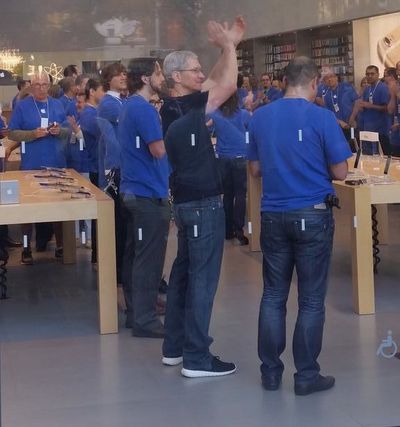 Tim Cook at final employee meeting before opening doors of Palo Alto store (via @CNBCnow)
Apple executives are also getting into the spirit of the iPhone launch, with CEO Tim Cook making his traditional visit to the Palo Alto store to greet customers. Cook
walked the line
and posed for photos with customers before heading into the store to meet with staff and open the door to welcome customers.
Several other executives are also out and about, with new retail chief Angela Ahrendts presiding over her first iPhone launch by visiting the flagship store in Sydney, Australia, and Internet software and services chief Eddy Cue making an appearance at the Stanford store.

Nearly all Apple retail stores in launch countries have now opened for business today, with only the three stores in Honolulu, Hawaii yet to begin sales of the iPhone 6 and 6 Plus.